'Tis the Season...for Hurricanes. Is Your Business Ready?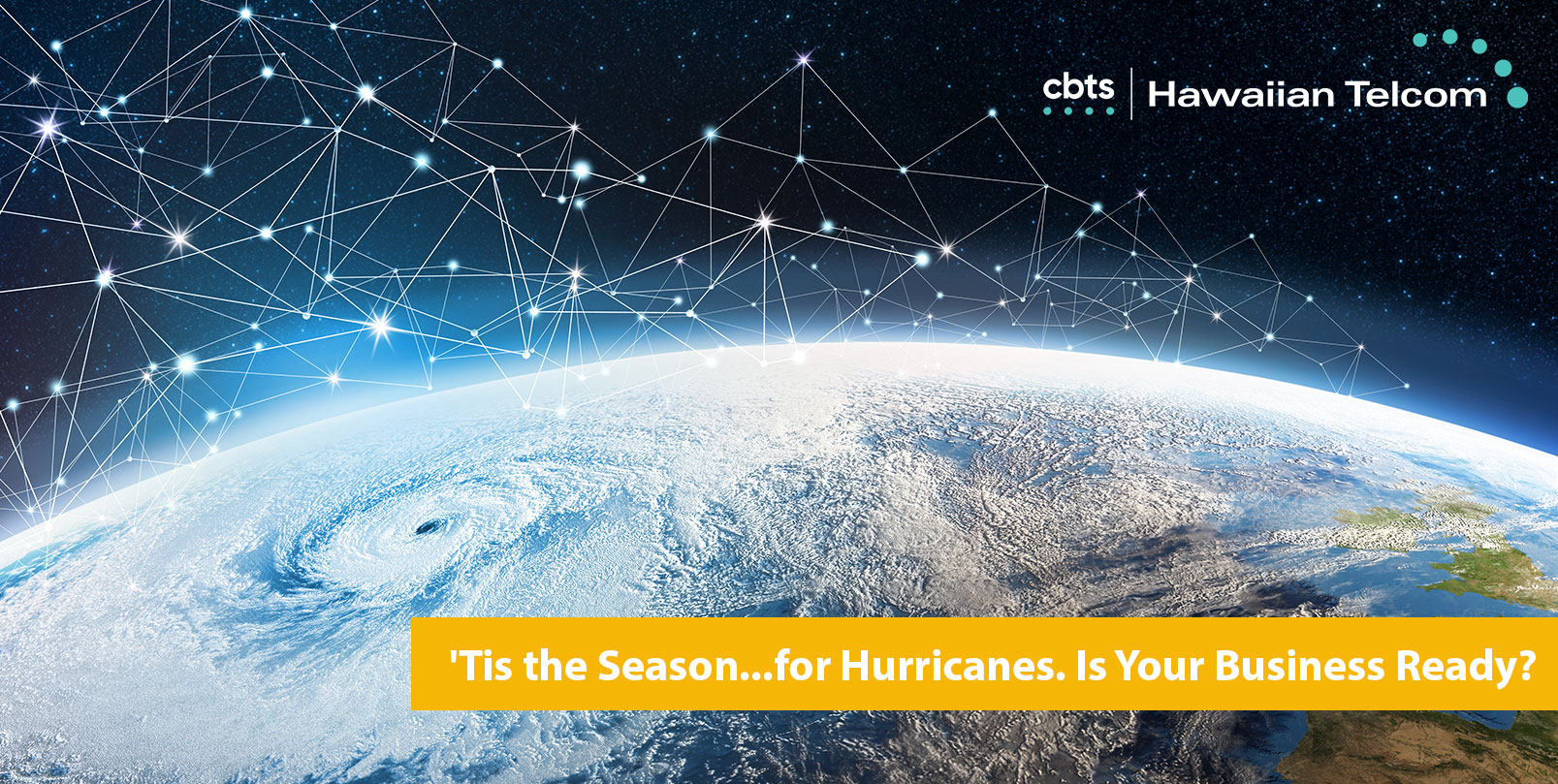 Tags: Cloud, How-To Guides, Data Protection, Disaster Recovery
From June until November we can expect weather that is not so friendly. As a human, it means we should grab an umbrella when we head outside, but as a business, it means it is time to double-check to be sure your building and your tech are ready in the event of a storm.
Power Protection:
Power outages are one of the primary risks during a hurricane, and protecting your expensive infrastructure should be a top priority. All core infrastructure (servers, routers, switches, storage arrays, etc.) should be plugged into an uninterruptable power supply. Servers should be configured to safely shut down when power to the UPS is lost, and if possible, configured to power back on when power returns. Workstations, printers, and other electronics should be protected by surge protectors or smaller desktop UPSes. Doing so will reduce the risk of data loss in the event of a sudden outage and also prevent damage to devices from sudden power loss or power surges when the power comes back on.
Things to keep in mind:
Many UPS devices have both "battery backup" and "surge protection only" outlets on them. Be sure you use the "battery backup" outlets for things like servers that need time to properly shut down, or all devices if you want them to not reboot during brief outages.
UPS capacity matters. Vendors like APC have offer calculators to help you determine what size UPS you need to meet your uptime expectations. For a setup that requires uptime regardless of the power situation, looking into co-location of hardware into a data center or cloud hosting may be a more viable option.
If you are in an area prone to poor power or blackout conditions, pre-emptively shutting down non-critical systems can help extend the uptime of your battery backups and protect the equipment from power fluctuations.
You need to test your backup power in the same way you test your backups. Schedule a maintenance window, cut power, and ensure your servers shutdown as expected and come back online as expected.
Note:

Laser printers should NEVER be plugged into a UPS as the larger power draw can damage the battery and shorten the lifespan of the hardware.

Backups and Disaster Recovery:
In the event of a hurricane, you may need to evacuate quickly and worrying about your data is not something you will have time for. On-Premise backups are absolutely necessary, but if possible, you should also look into off-site replication for your data. Off-site backups can be achieved automatically via a data sync tool designed for backup replication to a secure local data center or cloud partner, or they can be achieved manually by saving your backups to an encrypted portable device and taking that offsite with you on a regular interval.
Things to keep in mind:
Be sure to test both the on-site and off-site versions of your backups.
The frequency of your backups will determine the maximum data loss that can occur. (Example: If you take a backup at 9pm nightly, you risk losing up to 24 hours worth of changes to your data if something happens right before the next job runs).
Your IT team should understand which assets are the most important to get online and what the dependencies for those systems are. This will prevent unnecessary delays in the restoration process.
If you are using a cloud provider, test their recovery time to ensure your data can be restored in the time frame you require to keep your business up and running. With cloud storage, accessibility and speed of transfer are 2 of the major factors in price differences, so be sure you are paying for what you need, not just what looks best for the budget.
If your building could be damaged in a hurricane, be sure to include the ability to restore your data to the cloud and enable remote work in your disaster recovery plan - and be sure to test that ability before it is needed.
Physical Protection:
In addition to digitally protecting your assets, it is important to protect them from physical risks as well. Keep servers, UPS devices, and all other sensitive electronics off the floor if your building could flood. Electricity and water do not mix well, and to keep your electronics and your people safe, it is best to use things like server racks or wheel kits to keep electronics off the ground. In the event of flooding, power down your electronics and unplug them if you can do so safely.
Don't Wait:
Hopefully you already have a disaster recovery plan that already includes most of the above, but as the saying goes "The best time to plant a tree was 20 years ago. The second best time is now." Take the first steps by reviewing the above.
---
CBTS Hawaiian Telcom offer fast, reliable, scalable and secure backup services for Hawaii's enterprises Learn More>>
Share this article: