Hawaiian Telcom Donates Faster Internet to 'Iolani Palace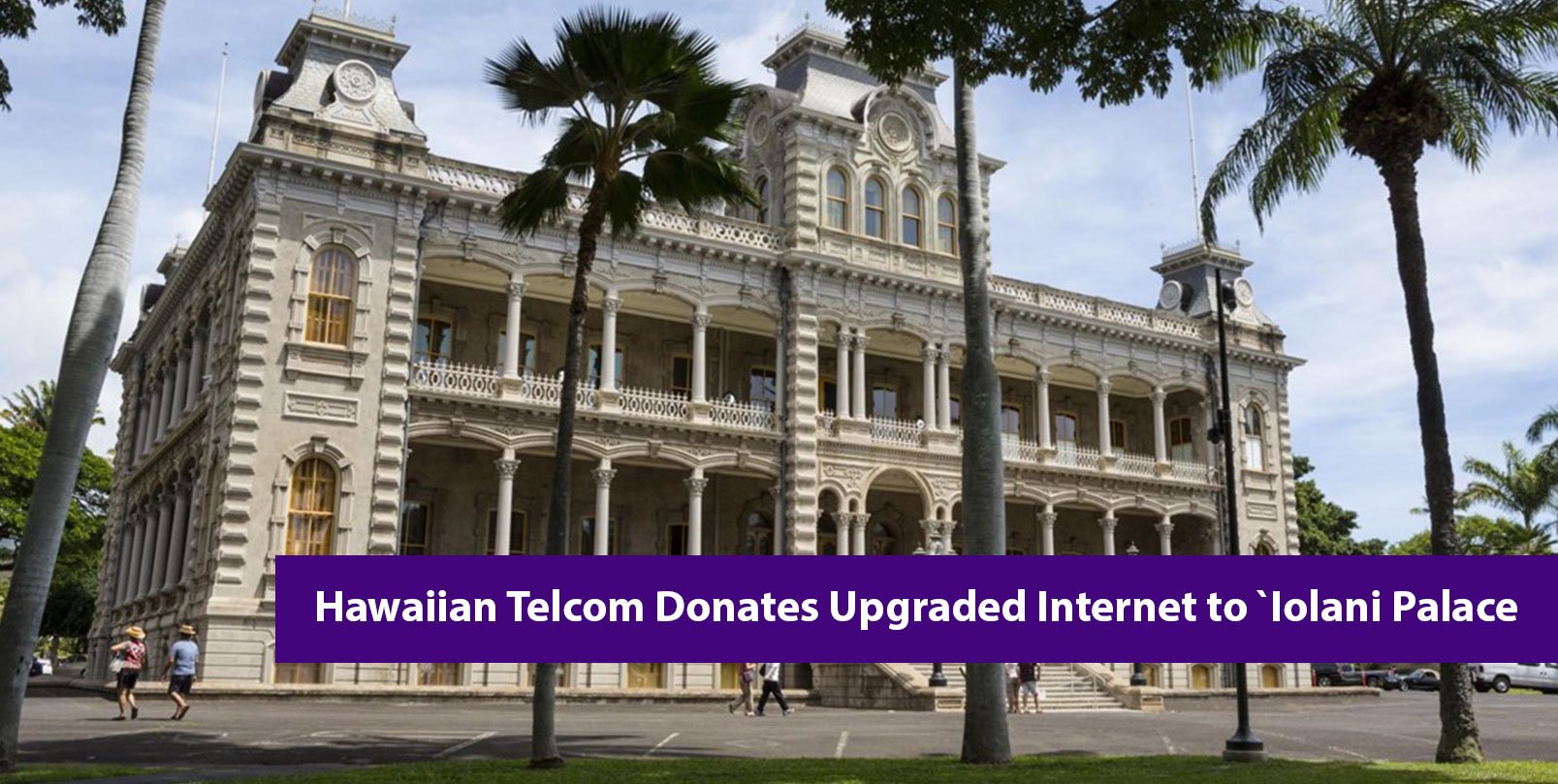 Tags: Internet/WiFi, Broadband, Fiber, Fiber Internet, Fiber Internet
People from around the world who visit Iolani Palace either in person or through virtual tours can now enjoy a better experience of the historic landmark and icon of national Hawaiian identity, thanks to a major internet service upgrade donated by Hawaiian Telcom valued at about $9,000.
"We're so fortunate to be a recipient of this generous donation and one of many organizations that benefit from Hawaiian Telcom's investment in fiber infrastructure," said Paula Akana, executive director of the Friends of Iolani Palace. "The improved connection greatly helps the Palace by giving us the potential to continue expanding our offerings and improving the visitor experience."
The Palace now has Hawaiian Telcom's ultra-fast 500 megabits per second (Mbps) symmetrical (upload and download) 100% fiber internet service. The increased bandwidth enables seamless livestreaming of educational webinars and other programs to guests and members, and can support the Palace's daily operations.
"King David Kalakaua was a high-tech monarch and a futuristic-thinker and because of this, Iolani Palace was one of the first places in Honolulu to have telephones. King Kalakaua was the visionary who granted our company a charter to provide telephone service back in 1883," said Hawaiian Telcom's President and General Manager Su Shin. "Nearly 140 years later, we're proud to help keep the Palace at the forefront of technology as we continue to expand our fiber network statewide to support Hawaii's residents and businesses."
Hawaiian Telcom is Hawaii's leading full-service provider of communications and entertainment services, including high-speed internet, data, video entertainment, and local and long-distance voice services that keep Hawaii connected to the world. The company's statewide fiber network and critical infrastructure deliver connectivity to many of Hawaii's most important institutions.
About Iolani Palace:
Iolani Palace is a living restoration of a proud Hawaiian national identity and is recognized as the spiritual and physical multicultural epicenter of Hawaii. Built in 1882 by King Kalakaua, Iolani Palace was the home of Hawaii's last reigning monarchs and served as the official royal residence and the residence of the Kingdom's political and social life until the overthrow of the monarchy in 1893. A National Historic Landmark, Iolani Palace is one of the most recognizable buildings in Hawaii. Meticulously restored to its former grandeur, Iolani Palace tells of a time when their Majesties, King Kalakaua and his sister and successor, Queen Liliuokalani walked the grand halls. For more information, please call Iolani Palace at (808) 522-0822 or visit www.iolanipalace.org.
Share this article: