Where to find your favorite holiday TV specials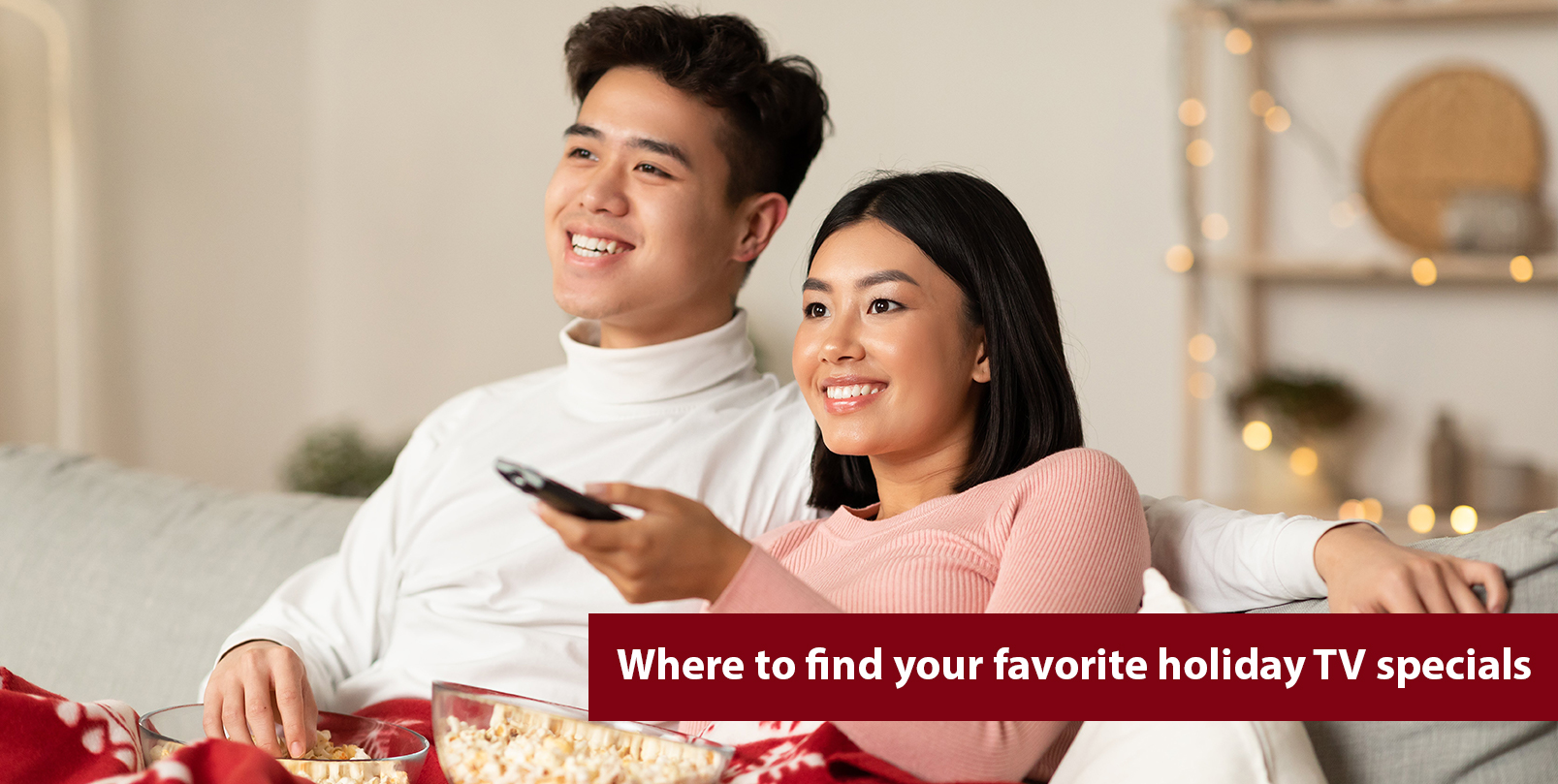 Tags: Television, Holiday
Holiday movies and TV specials are arguably the best part of this time of year. We encourage everyone to grab a blanket and a mug full of hot chocolate to experience some holiday magic with Hawaiian Telcom.
Channels with Holiday Specials
Hallmark Channel HD Ch. 1128
Countdown to Christmas has already begun! Enjoy all new holiday movies Friday, Saturday, and Sunday all season long.
---
Lifetime HD Ch. 1226
New holiday movies started November 12th on Lifetime! Catch movies every weekend in November and all week starting in December.


---
Freeform HD Ch. 1122
Freeform is ready for cozy winter nights with 25 Days of Christmas starting December 1. Enjoy up to ten holiday favorites every day...


---
tbs, TNT, and truTV HD Chs. 1121, 1125, & 1126
Treat yourself to "Winter Break" on tbs, TNT, and truTV. Watch classics like National Lampoon's Christmas Vacation, Four Christmases, and Friends all season long.


---
Featured Specials
Below are a few specific holiday specials for each week until the end of December for you and your family to enjoy. Check the Interactive guide on your Set Top Box to confirm dates and times.
Thursday, November 25 @6pm- The Nine Kittens of Christmas
Hallmark Channel, Ch. 1128 HD / 128 SD
Saturday, November 27 @6pm- Christmas at Castle Hart
Hallmark Channel, Ch. 1128 HD / 128 SD
Sunday, November 28 @6pm – The Christmas Contest
Hallmark Channel, Ch. 1128 HD / 128 SD
---
December
Wednesday, December 1 @3:50pm- Home Alone
Freeform, Ch. 1122 HD/ 112 SD
Friday, December 3 @6pm- Eight Gifts of Hanukkah
Hallmark Channel, Ch. 1128 HD/ 128 SD
Sunday, December 5 @1pm- Frosty the Snowman
Freeform, Ch. 1122 / 112 SD
Friday, December 10 @6pm- Holiday in Santa Fe
Lifetime, Ch. 1226 HD/ 226 SD
Saturday, December 11 @8pm- A Royal Queens Christmas
Hallmark Channel, Ch. 1128 HD/ 128 SD
Sunday, December 12 @7pm- America's Funniest Home Videos (holiday episode)
ABC, Ch. 1004 HD/4 SD
Saturday, December 18 @7pm- Dr. Suess' How the Grinch Stole Christmas
TNT, Ch. 1125 HD / 125 SD
Friday, December 24 @8pm- Olaf's Frozen Adventure
ABC, Ch. 1004 HD/4 SD
Saturday, December 25 @9:10am- The Santa Clause
Freeform, Ch. 1122 / 112 SD
---
Premium Channels and Streaming
Hawaiian Telcom TV's premium channels offer holiday movies year round. Access your favorite channels or streaming services on your Hawaiian Telcom Fiber connection. Below are just a few holiday favorites for you to enjoy any time this season:
STARZ
Christmas with the Kranks
Felix the Cat Saves Christmas
---
HBO Max
Elf
A Christmas Story
The Polar Express
---
Netflix
Holidate
Dash & Lily
Operation Christmas Drop
---
Disney +
The Nightmare Before Christmas
Mickey's Christmas Carol
Olaf's Frozen Adventure
Share this article: