Growing Through a Pandemic With MetroGrow and Hawaiian Telcom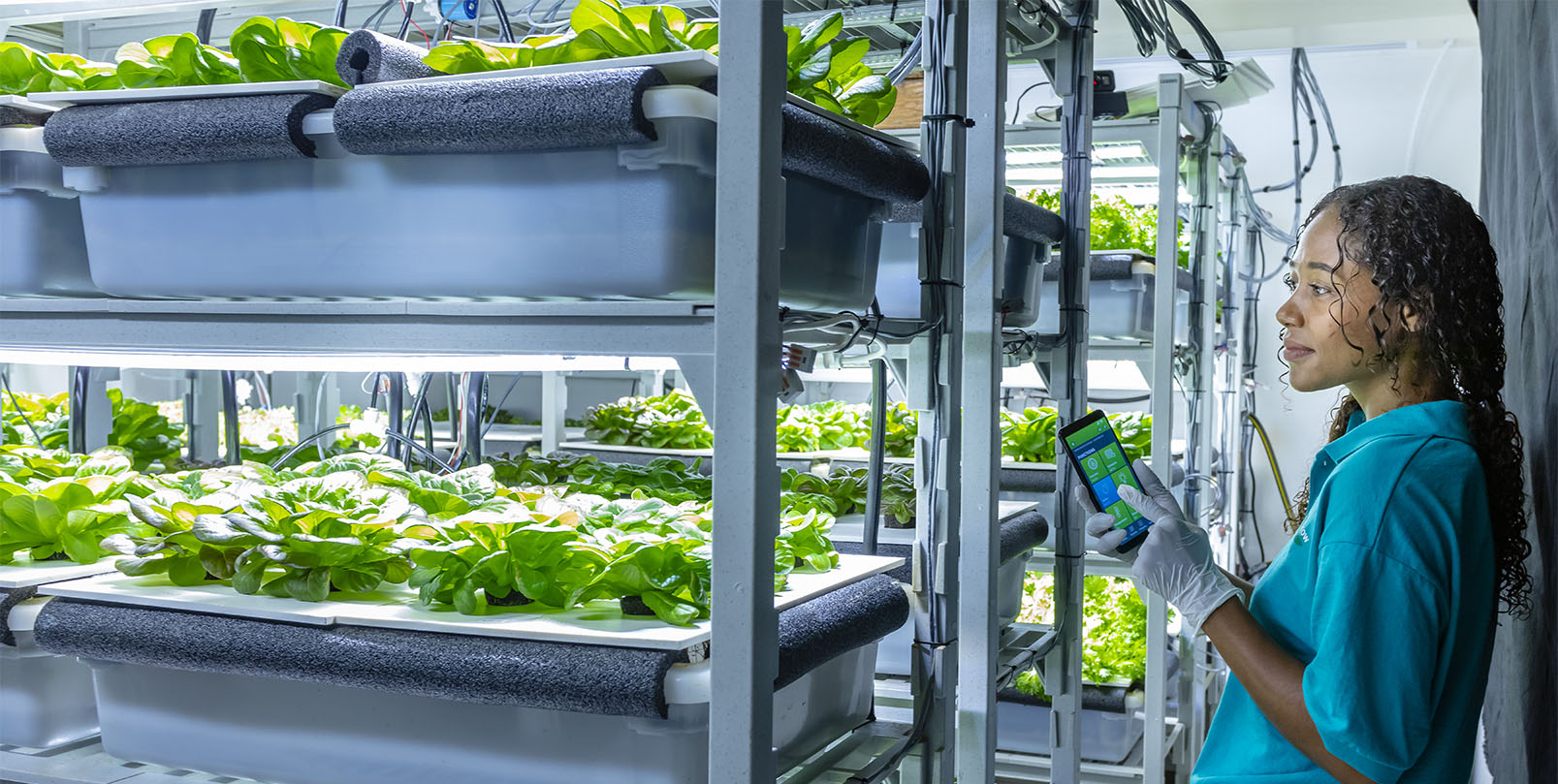 Tags: Internet/WiFi, Case Study, Small Business, COVID-19,
Imagine a world where all your food could be sourced locally and sustainably, even from the heart of a bustling metropolis. Vertical farming is the practice of growing produce on shelves housed within a controlled indoor environment like the floor of a city skyrise. By leveraging technologies such as hydroponics and automation to control all aspects of a plant's growth, it's possible to cultivate healthier happier plants with less land, water, and energy than conventional farming methods.
The future of vertical farming is already being pioneered in Kakaako
Tinkering away amidst the hustle and bustle of urban Kakaako, Kerry Kakazu is not your typical farmer. As the founder-operator of MetroGrow, Hawaii's first vertical hydroponic farm, Kakazu has always been tweaking and innovating. "The idea," Kakazu says, "is that being able to control the growing environment, lighting, temperature, etcetera, we can grow more efficiently and also grow unique crops that can't be grown outdoors."
Those crops include the ice plant, a hardy succulent with a natural saltiness that chefs love. Kakazu pays attention to every detail: for example, although Honolulu's water is perfectly fine, he leverages a reverse osmosis system to precisely control the salinity for specific crops.
Kakazu's attention to detail is evident throughout MetroGrow, where rows of shelves laced in white LEDs host a veritable bounty of scallions, sorrel, garden peas, butter lettuce, and other greens. Instead of soil, automated aeroponics systems keep exposed roots nourished via frequent spritzing of nutrient-rich mist.
Using LED lights are much more energy efficient than older grow lights and don't give off as much heat, thereby reducing his cooling expenses.
And speaking of energy efficiency, rooftop solar panels convert sunlight into electricity which Tesla PowerWall systems can store for future use. From solar power to water reclamation systems—sustainability is directly built into MetroGrow.
Pivoting during a pandemic
It's no secret that the pandemic hit the restaurant industry hard. The decline in the restaurant business necessitated a sudden shift in MetroGrow's business model. "We kind of focused, and still do focus, on a higher-end market, primarily for restaurants and chefs who are looking for a unique product." The bulk of MetroGrow's revenue came from standing orders from chefs who wanted the same products week after week. However, now that chefs are unsure about how much they're going to sell from day to day, those standing orders are waning.
"Because the restaurant market went so down drastically," Kakazu said, "the pivot was to the consumer side." He's become more energetic about selling to individuals, through an online store built on Square, personally handing products off at the curbside of his farm's urban location. Instagram is suddenly an important part of his life—on the company account, he posts pictures of his produce as well as the dishes he makes with it at home.
Investing in the future with Hawaiian Telcom's fiber Internet
Given this new consumer focus, having a reliable internet connection became more important than ever. Kakazu couldn't afford to miss an order or a customer email and his previous Internet connection was far from problem-free. So when the time came for MetroGrow to upgrade to a communications technology fit for an urban vertical farm, Kakazu opted for Hawaiian Telcom business fiber Internet. "We're not a typical telecom type business or Internet business, but it's pervasive in everything we all do now. Having something that's reliable with consistent speed, where we're confident of it working all the time seamlessly, has been important to us."
Kakazu was pleased with the speed of the installation—it took less than fifteen minutes to switch over. From the moment MetroGrow switched to fiber Internet, he noticed a significant improvement in both download and upload speeds.
From managing customer interactions online to streaming music in the grow room, MetroGrow is already reaping benefits from the switch to fiber. But as MetroGrow expands, Kakazu's interested in implementing even more sophisticated growing systems with the power of the Internet of Things (IoT). First, it's basic automation—eventually, he wants the climate so controlled that he doesn't have to be there. "The future goal is to not go in every day."
Hawaiian Telcom's fiber Internet give MetroGrow the infrastructure needed for growth
IoT relies heavily on data streaming and analytics to be effective—you need a way to reliably move and process unstructured data streaming from a diverse collection of sources including the hundreds of sensors, microcontrollers, and cameras you might find throughout a vertical farm. With Hawaiian Telcom's fiber Internet, Kakazu knows his Internet connection won't be a bottleneck.
With fiber-powered vertical farms, the sky's the limit. Kakazu has a background in academic computing, so he's well aware of the possibilities. "We could set up cameras almost everywhere, actually looking at the quality of the product with neural net image analysis." From curbside pickup to neural nets, Kakazu continues to innovate, and Hawaiian Telcom fiber Internet will be there to support his growth.
Click here to learn more about Hawaiian Telcom Business Internet and how the speed of Fiber can help your business.
Share this article: