5 Ways Business Voice Supports Remote Workers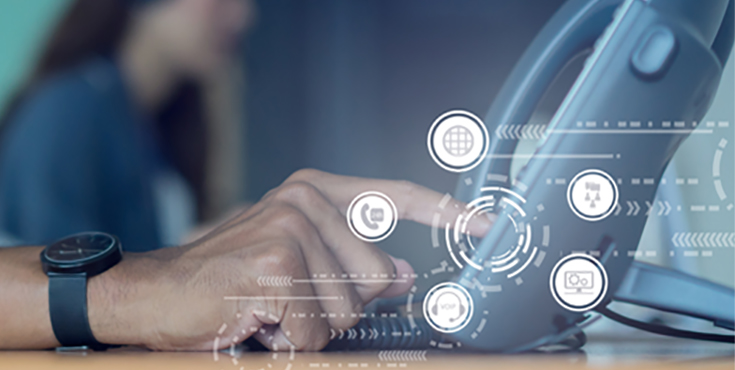 With businesses continuing to work from home or with teams working remotely from different locations, it's even more essential that your workforce has the right tools to keep them connected to customers and each other. Business Voice offers flexibility and options to make working remotely easy and seamless.
1. Plug-and-Play Desktop IP Phones
Whether working from the office or at home, Business Voice Essentials offers Desktop IP phones that are easy to set up and only require an Internet connection and power source to operate. Employees get state-of the-art, dedicated phone hardware included with the service. These phones allow employees to be part of a Hosted VOIP network that is connected both internally and externally to the rest of the team.
2. Easy operation and management
Remote workers can easily manage their phone on a web-based platform. Setting up voicemail to email, call forwarding, do-not-disturb and seeing call history is easily accessed and managed from a computer or mobile web browser. Business Voice has the option of being a fully managed service so all the maintenance and service is included in your monthly cost.
3. Never miss a call
Business Voice has business continuity features so in the event of an internet outage, the system automatically forwards calls to another number like a mobile device, so you can continue to answer business calls. Remote workers who are part of your unified communications network can also take advantage of business continuity services so that they can keep working even when their internet is not.
4. Promotes Interaction and Collaboration
With add-on features like Hosted Unified Communications, you can empower your remote workforce to interact and collaborate with customers and fellow workers regardless of where they are working. Employees can make calls from a mobile device, desktop or tablet but still look like it's coming from their office number. Other features like Instant and group messaging allow employees to stay connected with each other. It makes asking questions and sharing ideas easy and instantaneous.
5. Voice and Video Calls
Voice and video calling features are an important tool to help workers feel they are part of a team. Seeing others' faces in meetings on a regular basis reinforces the bonds between employees and fosters better collaboration. Business Voice offers options to add video calling with Hosted Unified Communications.
Click here to learn more about the benefits of Business Voice or call 643-0926 to get in touch with our experts and find out how your remote workforce can depend on Business Voice to stay connected.
Share this article: