Upgrading Hawaii's Middle Mile Network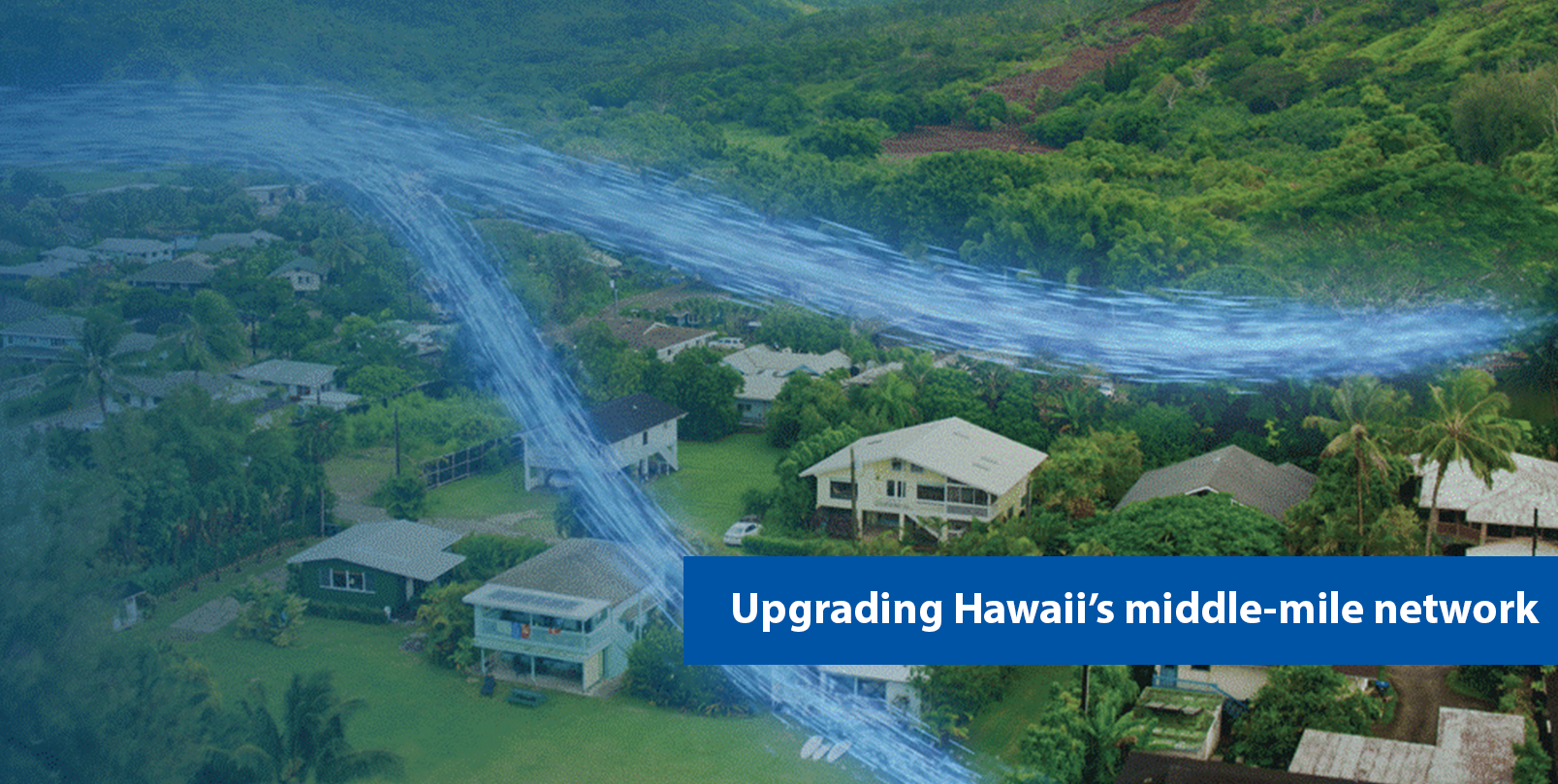 The need for fast, reliable, and affordable broadband is present in every facet of our lives – at work, in the classroom, while receiving health care, or simply connecting with loved ones. The COVID-19 pandemic underscored this need, exposing the digital divide and making it clear that broadband is a necessity.
There are three key network pieces that are critical to providing high-speed internet access: the first, middle and last mile.
The first mile connects Hawai'i to the internet or the world via trans-Pacific fiber optic cables.
The middle mile provides high-speed connectivity between major network hubs. Middle mile networks carry large amounts of data over long distances, increase the capacity of local networks, boost network resiliency and help connect unserved or underserved areas to the internet. The middle mile does not directly connect end-user customers.
The last mile infrastructure provides connectivity from service providers' network hubs to end-user customers in homes and office buildings.
Understanding the importance of upgrading middle mile networks, the U.S Department of Commerce's National Telecommunications and Information Administration (NTIA) developed a Middle Mile Broadband Infrastructure Program that provides more than $900 million in funding to expand this type of infrastructure across 35 states and Puerto Rico. The grant program aims to reduce the cost of connecting unserved or underserved areas to the internet backbone
In September of last year, the NTIA grant program received over 260 applications from states, tribal governments, utility companies, telecommunication companies, and nonprofit entities, all vying for approximately $7.5 billion. Hawaiian Telcom was fortunate to be one of the 32 awardees announced in June 2023.
Hawaiian Telcom will receive approximately $37 million in federal support. We will invest approximately $50 million in matching funds and in-kind contributions for a total project cost of $87 million to build a resilient middle mile network that extends throughout Kaua'i, O'ahu, Moloka'i, Maui, and Hawai'i Island, and in the surrounding waters of the Pacific Ocean.
This build, which includes 15 new terrestrial and undersea routes, will add approximately 140 miles of terrestrial infrastructure and 600 kilometers of fiber. This strategic build plan also incorporates our understanding about the impact of climate change and its associated vulnerabilities, and includes additional network resiliency and diversity.
Throughout our state, the majority of utility companies' infrastructure is located along the coastlines that are eroding. To address climate-related risks as well as mitigate impact from natural disasters such as volcanic eruptions and fires, tsunamis, and hurricanes, Hawaiian Telcom plans to replace some key routes that are currently on the eroding coastlines as festoon routes in the ocean. These festoon routes will be key in addressing coastal erosion and king tides.
Our goal is to ensure that Hawai'i's middle mile infrastructure provides access to high-speed internet across the state, creates affordable options, increases digital equity and inclusion, and is sustainable for future generations.
Kalani Andrade is Senior Manager – Network Planning and Sub-Sea Cables for Hawaiian Telcom. Reach him at Kalani.andrade@hawaiiantel.com.
© Honolulu Star-Advertiser
Visit this article in the Star-Advertiser.
Share this article: