Navigating the Next Normal: How Technology Can Fuel Your Business Growth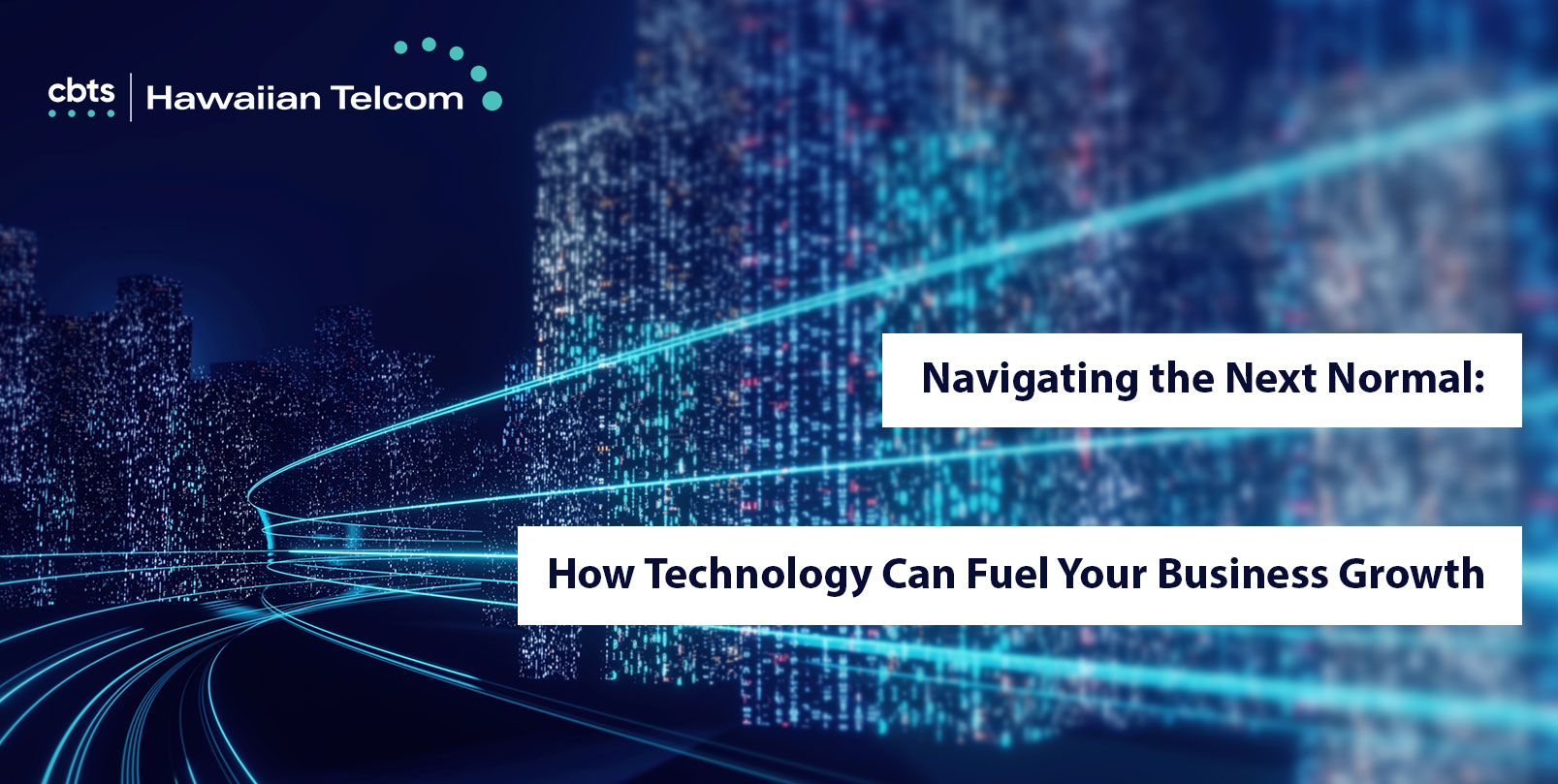 Tags: IT Solutions, Events, Working Remotely
The pandemic tested businesses like nothing else, forcing them to rapidly adapt operations to stay afloat as national lockdowns changed every industry overnight. Many had to pivot and rely on technology to keep their business open.
During our event in partnership with Hawaii Business Magazine: Navigating the Next Normal: How Technology Can Fuel Your Business Growth we talked with local businesses to see what they have learned during the pandemic that will improve their businesses going forward.
---
Topics:
How businesses are striking a balance between working remotely and working in the office.
How technology will enable your successful transition to the next normal
Specific steps businesses can take to modernize their processes for maximum impact.
---
Missed the event or want a recap? Watch the event video recording:
Our Experts:
Adrienne Chee

Senior Vice President and Chief Information Officer

Matt Freeman

Director Service Delivery

CBTS Hawaiian Telcom

Brad Koanui

Vice President, Chief Information Officer & Program Manager




Moderator: Steve Petranik

Editor, Hawaii Business Magazine
---
The pandemic imposed immediate challenges on all types of businesses.
One of the biggest challenges of the pandemic was how quickly it came about. In order to deliver on their strategic initiatives businesses had to rethink budgets and mobilize their workforce. They also had to keep their remote workers connected, available and productive while securing data, their systems, and technology assets. IT staff had to be able to provide support to employees while working from home. They also had to educate employees about the importance of security in their home office.
At CBTS Hawaiian Telcom, we saw a tremendous increase in customer requests for what proved to be crucial services in the time of the pandemic – Faster Internet, Cyber Security and Managed IT.
The pandemic has affected how businesses prepare for a disaster.
COVID-19 was a disaster, but not in its usual sense. To some degree what constitutes a disaster has expended. Traditionally, at CBTS Hawaiian Telcom, we focus on hurricanes, power outages, volcanoes, etc. These things present a major disruption to the critical infrastructure of delivering internet to business across the state. The inability to come together and perform work is a different type of disaster.
Usual disaster recovery plans only focus on limited operations for a short period of time with the possibility of moving all their staff to one location if needed. The pandemic presented two challenges: the majority of the staff was not able to leave their homes and that it had lasted much longer than any disaster businesses have been preparing for.
Business technology trends in the upcoming years will be affected by businesses willingness to expand and explore hybrid work environment.
In the years to come businesses will be focusing on robotic process automation for repetitive and time-consuming tasks, so that their employees can focus on other tasks. For example, automatic chats can help customers when they are not in the office. When expanding their services to mainland it will be important for businesses to be able to assist their customers living in other time zones.
In a heavily technology-driven world it is easy to overlook the importance of emotional wellbeing.
During the pandemic businesses had noticed a lot of "zoom fatigue". Lack of social interaction and lack of environment change also imposed a strain on the employees' mental health.
Some businesses addressed the emotional welling of their employees by reaching out to them on a regular basis. They were not only making sure they have the tools they needed to do their jobs efficiently, but also ensured they could cope with working remotely and got the social interaction they needed.
Not all the effects of the pandemics were negative.
Rural population has always been behind in terms of internet accessibility. The issue of uneven internet distribution has become more prominent with mandatory remote education during the pandemic, where not all kids were able to do the schoolwork that became remote.
As a result, some federal funding was provided to enable internet access to even the most remote US households.
The pandemic and remote work has also enabled businesses to widen their pool of talent, spreading to other geographical zones. The pandemic proved that talent can work from home, and from just about everywhere.
Paperless office environment has been accelerated by the pandemic.
At CBTS Hawaiian Telcom we breathe technology, therefore the sudden transition to paperless at the beginning of pandemic has been pretty seamless. However, businesses like banks and insurance companies were more reliant on their employees having access to paperwork. They could no longer personally assist customers, so they had to transition to e-signing and it may not have been an easy switch. They had to digitalize all their documents so to provide their remote workers with digital access. The process, although time consuming and tedious, has not only enabled businesses to survive the pandemic, but also set them up for paperless future, a cost effective and environmentally friendly solution.
The biggest takeaways of the pandemic are very reassuring.
During the pandemic we have learned how interconnected we all are. Not just as a regular community, but as a business community. For example, when restaurant and hospitality businesses were struggling, we came together to support them. We have adapted to the takeout model to help keep these restaurants afloat. At CBTS Hawaiian Telcom we had to work with many of our business clients to make sure they had funds available to help keep them in business.
We need to recognize how much of a business ecosystem we have in Hawaii. We are all connected and we need to support each other however we can.
---
Future-proof your business with Managed IT Services from CBTS Hawaiian Telcom

CBTS Hawaiian Telcom

enables your business to leverage Managed IT Services delivered and supported by certified experts. Our suite of services is designed to help businesses of any size manage their day-to-day IT operations — including server and workstation support, malware protection, and on-demand support for your employees. With Managed IT Services, any business can access skilled IT experts without hiring full time staff while large businesses with an internal IT staff can cost-effectively supplement their staff to meet specific technical needs.

Managed IT Services are available for a fixed monthly price that is scaled according to the size of the business. This solution from CBTS Hawaii could be the most important step you take to prepare your business to survive the next unexpected challenge.
---
Presented by CBTS Hawaiian Telcom in partnership with Hawaii Business Magazine
Share this article: