5 Unexpected Benefits of Managed IT Services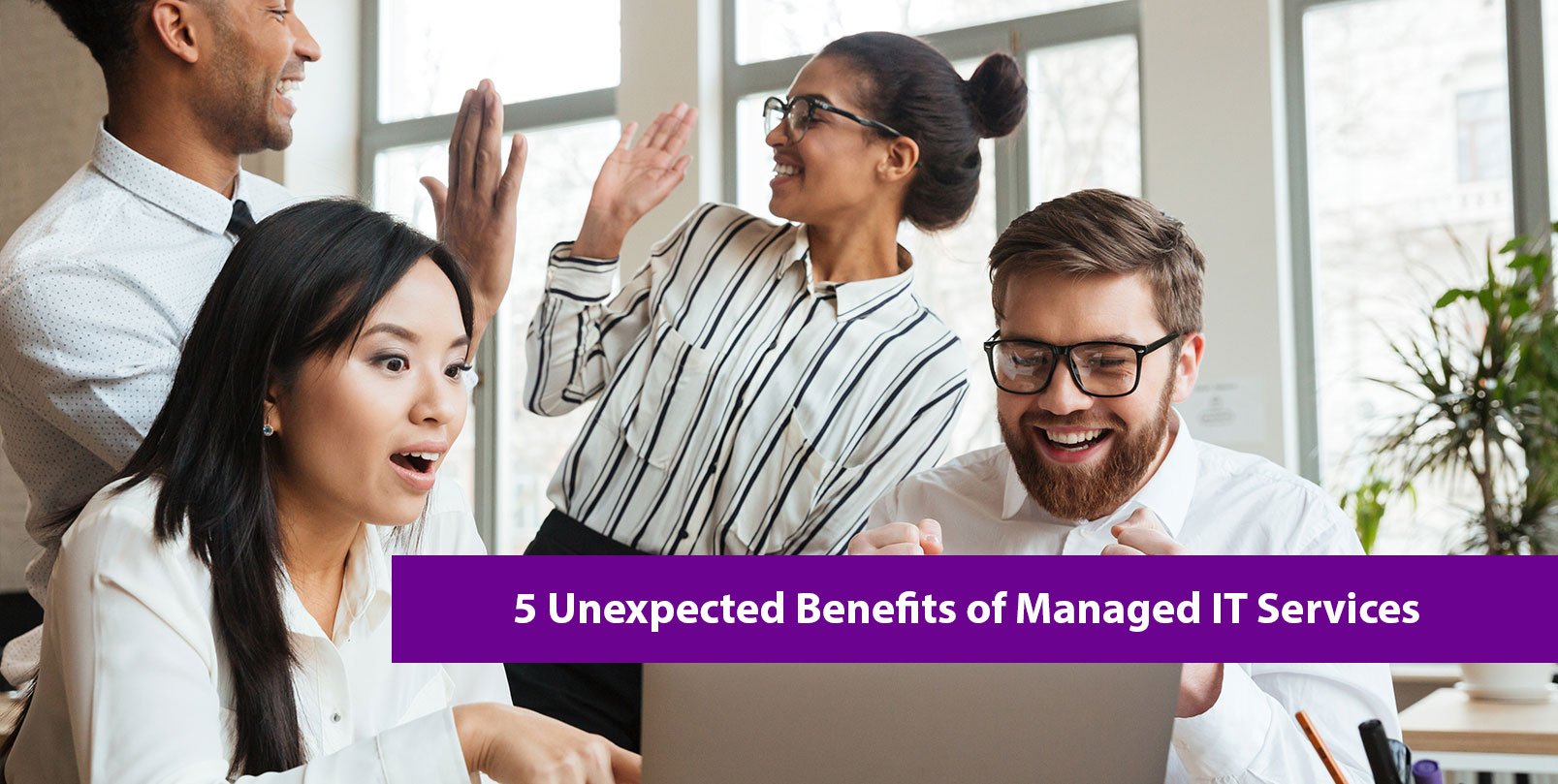 Tags: Managed IT
Beyond the traditional ROI-based arguments for using a vendor to provide all or supplement your IT services, there are additional benefits many businesses don't consider. Here are 5 unexpected benefits of using a Managed IT service.
1. Keeping Up with the World of IT
IT world is constantly changing and evolving. IT has become a massive field. 10 years ago, an individual could be the "lone IT person" in an organization and be successful. With the rapid adoption of the cloud, the massive change in the cybersecurity threat landscape, and the influx of "as a service" platforms like Microsoft 365 and others, it is nearly impossible for any individual to maintain expertise in all areas of technology. While small teams can generally keep things working day to day, moving organizations forward can be difficult, especially when there is a paradigm shift like we are seeing with the rapid adoption of cloud-based technology. Working with a managed service provider can give you on-demand access to experts in all areas of your technology stack.
2. Avoiding Employee Acquisition and Retention Costs
The demand for quality IT staff has never been higher. Smaller organizations are especially vulnerable to turnover of staff when demand is high because many only have one IT person. Working with a managed service provider to implement a "co-managed" solution can help add continuity to your business in the event your IT person moves on to another opportunity or even if they just want to take a vacation without their cell phone ringing.

3. Taking Advantage of the Economies of Scale.
One major challenge of IT is that some of the best tools tend to have a large administrative cost to keep working effectively. Working with a managed service provider can give you access to not only the tools with the features you need but also an IT team that can help manage them so your team can focus on your business's goal.
4. Access to a Defined Set of Best Practices.
Most organizations know what good looks like when it comes to their business, but unless you are in IT, it can be a challenge to ensure you are doing it "right." Partnering with a managed service provider allows you to access their best practices and to have another team to bounce ideas or problems off of to see how others are solving similar problems.
5. Clarity in Communication.
One of the biggest struggles an internal IT Team may have is translating technical challenges into business risk and value. Working with a managed service provider gives you access to people who are experts in just that – translating business problems into technical solutions and technical problems into business risk conversations. Having a resource to help bridge communication gaps throughout the organization can be invaluable.
---
Hawaiian Telcom has been helping many customers with their Managed IT solutions. Whether you need us to serve as an extension of your existing IT team, or act as your IT department and partner for the long-term growth of your business, Hawaiian Telcom is here to help. If you would like to chat more about these or any other IT service we provide please call us at 808-777-6027 or visit our website for more information.
Share this article: