Meet the Artist of the Artwork Featured on Fiber Driver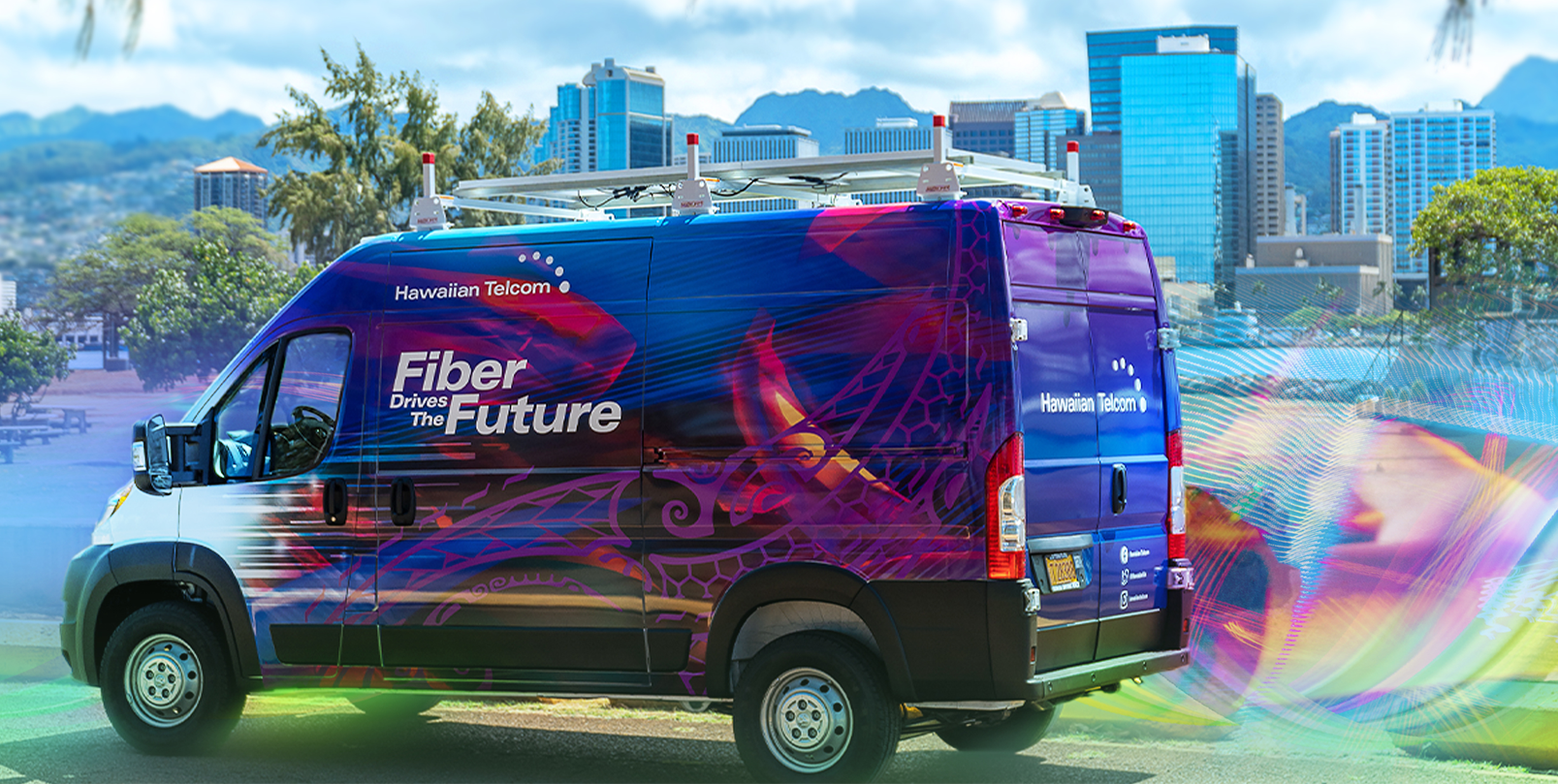 Tags:
Thanks to a collaboration by Hawaii artist Mike "Bam" Tyau and Anthology Marketing Group, we're proud to showcase a futuristic design on Hawaiian Telcom's Fiber Driver that is full of color, speed and movement. Fiber Driver is a mobile, high-tech entertainment experience that's helping us spread the word about Fiber Internet and how it's coming to more homes and businesses throughout the state. Besides sharing reasons why Fiber Drives the Future, there's a story to be told about the artwork and artist that has given Fiber Driver much of its personality and story of its own.
We interviewed the artist Bam Tyau whose artwork is the creative, eye-catching feature in Fiber Driver's design. Read more to learn about his connection to Hawaii, his inspiration for the artwork and find out what he is most excited about when it comes to technology and how Fiber Drives the Future.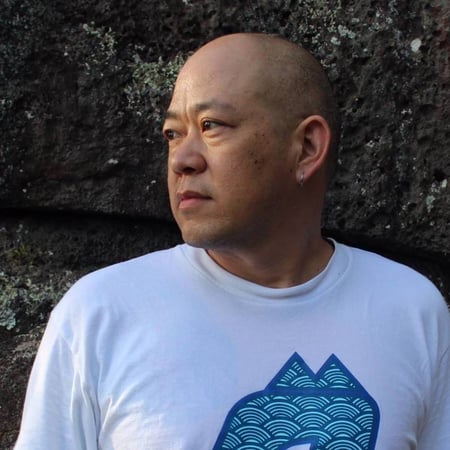 Mike "Bam" Tyau, Hawaii Artist
Where did you grow up in Hawaii?
I grew up in Nu'uanu on O'ahu. No Waiolani ko'u ohana, where my familyʻs water line comes from the Waiolani district.


What local high school did you go to?
I attended Iolani School, but I wouldnʻt say I was the typical "Iolani Ivy League prep" student. I was very lucky to have attended a school that opened my mind to all visual arts of painting, film making, ceramics, woodshop, photography, traditional drafting, and airbrushing.


What is the piece that is featured in Fiber Driver's design called?
My artwork in the background of the "Fiber Driverʻs" van wrap is called "Mālama."
What inspired the artwork?
Believe it or not, most of my abstract paintings are visions that run through me after several meditation sessions. Some visuals just flow right out of me after one meditation, yoga, or "grounding" session. The mana (energy) is something that occurs at the moment or in a painting session, unlike how some artists draw or paint from a reference photo. Itʻs similar to how musicians perform live in a jam session.
What message does the artwork portray?
The title of the background piece was called "MĀLAMA" or to take care of something. I did a series of background paintings called "Mālama 'Āina" (take care of the land), "Mālama o ke Kai" (take care of the ocean), and "Mālama Pono" (Take care of yourself), where all the compositions were the same, but the colorings changed with the themes. In visual art, the viewers of your art will see different things. Itʻs the same thing in the Hawaiian language, where a word or phrase can have multiple meanings. "Mālama" can also be defined as having the light of knowledge, having clarity of thinking, or having enlightenment. Although my artwork is not the dominant visual when people see the Fiber Driver van, I hope it promotes intrigue for people to ask what it is or to make people feel the speed of fiber or the vastly different worlds they can explore with fiber technology.
Why did you agree to collaborate with Hawaiian Telcom for the Fiber Driver project?
In Hawaii, itʻs all about relationships. People are always caught up in economics that controls their lives. If I like the relationship with a community or group of people, then Iʻll move forward with a project. If I feel comfortable with a relationship, I have trust with a client or the people that display my artwork. What people need right now is to experience positive energy. One of the goals of my artwork is to make people "feel" positive and "charged up!"
How do you use technology to create your art?
I have been using computer graphics since 1984 when the first Apple Macintosh was launched. At the same time, I grew up as a graffiti kid running around spraypainting the ditches I rode my skateboard on. Once I realized that the computer could speed up my life, I told all my graffiti friends that Iʻm never going back to traditional painting. I became a 3d modeler and animator where I learned how the lighting in the virtual world is a key factor. I ate my words 15 years ago when I started to paint with traditional materials again when I longed for physical contact with the paint. Once I saw artist David Hockney complete museum exhibitions using the Apple iPad in 2012, it verified that the iPad was a viable tool for creating art for me. However, I had to return to painting with traditional materials to fall in love with the color and the "physical action of painting" before using digital painting tools to enhance my artwork.
How are you involved in the local art community in Hawaii?
I work part-time for the Estria Foundation / Mele Murals program that teaches the youth of Hawaii how to paint large-scale murals based on the mo'olelo wahi pana (historic stories of significant cultural place) and Hawaiian ancestral history where each school is located. I do my best to teach youth of Hawaii about local artists that promote Kānaka Māoli culture and not artists that paint just pretty images.
What are you most excited about when you think of how Fiber drives the future?
The day that fiber is available to all districts in Hawaii and the entire world, I will be excited to teach my online art classes to any child all over the world.
Is there anywhere that you would like HT's followers to follow you on social media?
People can follow me @MikeTyau on Instagram and Twitter and my artist page on Facebook.
Learn more about why Fiber is the Future or stay connected with us by:
Share this article: