Influential Black Musicians and Artists - Black History Month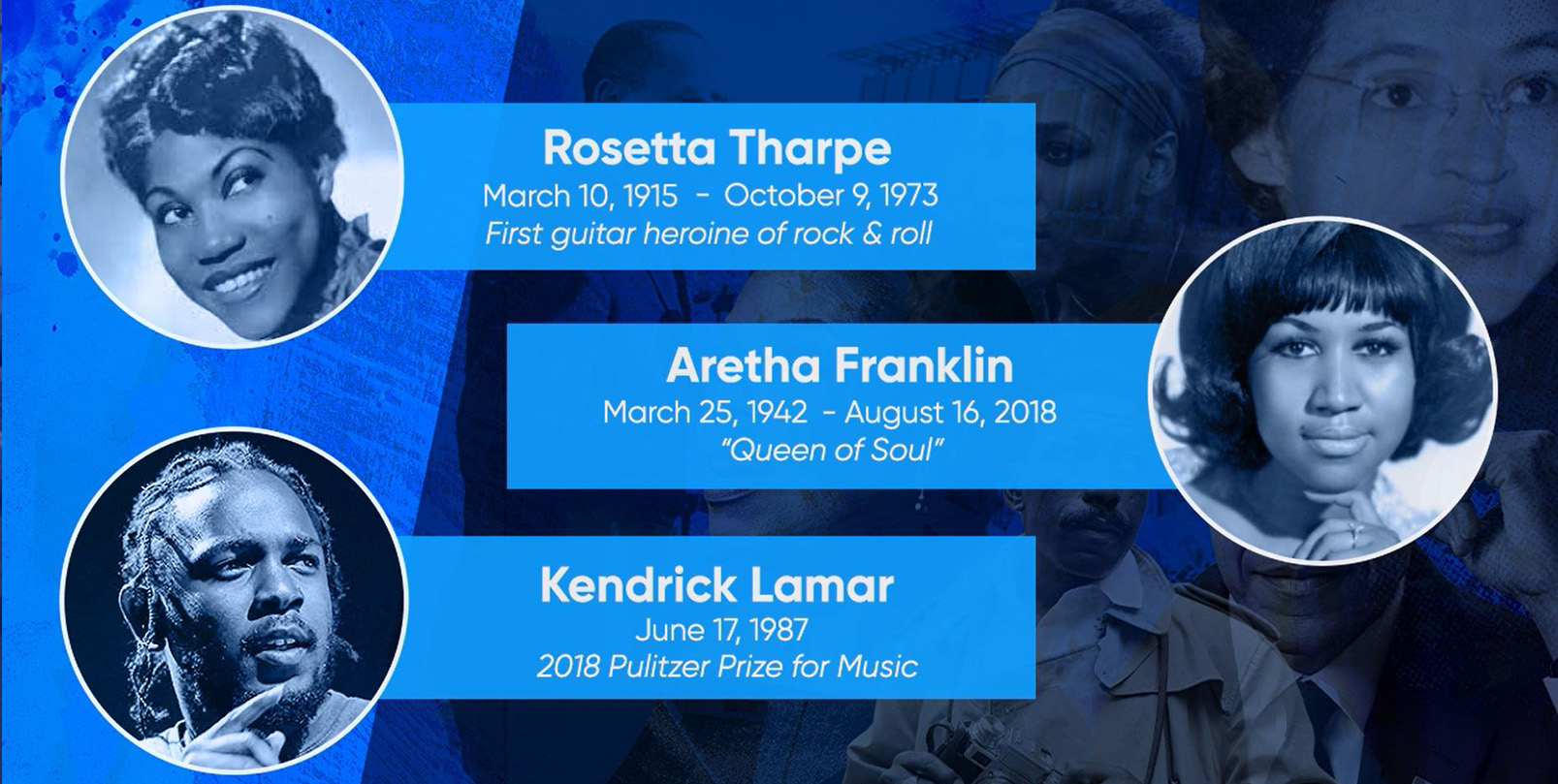 Tags: Community
It goes without saying that music brings richness and vibrancy to its unique culture. Black History Month could not be celebrated without highlighting Black musicians and artists and their significant impact on American music. Their contributions have built a foundation and shaped popular music in America and still serve as an inspiration to artists today.
Sister Rosetta Tharpe (March 20, 1915 – October 9, 1973)
Sister Rosetta Tharpe, almost unknown today in American popular music history, is well-loved for her powerhouse voice and mastery of the guitar. She's considered the first guitar heroine of rock and roll and was inducted into the Rock and Roll Hall of Fame in 2018. Sister Rosetta Tharpe's rise to fame was in the 1930s to 1940s where she took her musical expression of performing in the church to touring the country on many different stages in front of adoring fans up to the tens of thousands. Her captivating voice and guitar-slinging abilities make her an icon to this day.
Aretha Franklin (March 25, 1942-August 16, 2018)
Aretha Franklin came from a family of musical talent but proved to become a prodigy from a young age. She was raised in Detroit with her siblings and father C.L. Franklin, who would manage her in the beginnings of her musical career. It was reported that she performed for house guests growing up that would include Dinah Washington, Oscar Peterson, Nat Cole, Sarah Vaughan, Arthur Prysock and Dorothy Dandridge. When Aretha was 18, she released her first single under Columbia Records, with the hit single Won't Be Long that hit top ten in the Billboard R&B charts. In 1966, Aretha signed with Atlantic Records, where she released the single, Respect, written by the legendary, Otis Redding. She would go on to release hits in her career like A Natural Woman, Chain Of Fools, Think and I Say A Little Prayer. Besides her accomplishments of winning Grammys for best female R&B vocal, she was involved with civil and women's rights movements in her lifetime.

Kendrick Lamar (June 17, 1987 - Present)
Kendrick Lamar grew up in Compton where from a young age was influenced by rap as a genre. Even as a young child, he experienced the filming of Tupac Shakur and Dr. Dre's music video for the single California Love in his own neighborhood. Kendrick released his major-label debut album Good Kid, M.A.A.D City in 2012, which would go on to be certified triple platinum by the Recording Industry Association of America (RIAA). The music that Kendrick produces is well-known to incorporate funk, soul, jazz and spoken word. In 2017 he released his fourth album DAMN, which became the first album outside of classical or jazz to be awarded the Pulitzer Prize for Music. This was a milestone moment for Pulitzers at its elite level of recognition for American culture to recognize hip-hop as a legitimate artistic medium. He also shared the stage in the 2022 Pepsi Halftime show for Super Bowl LVI with hip-hop's greatest including Dr. Dre, Mary J. Blige, 50 Cent and Eminem.


Share this article: