96751 Kealia, Kaua'i - First Zip Code Fully Enabled with Fiber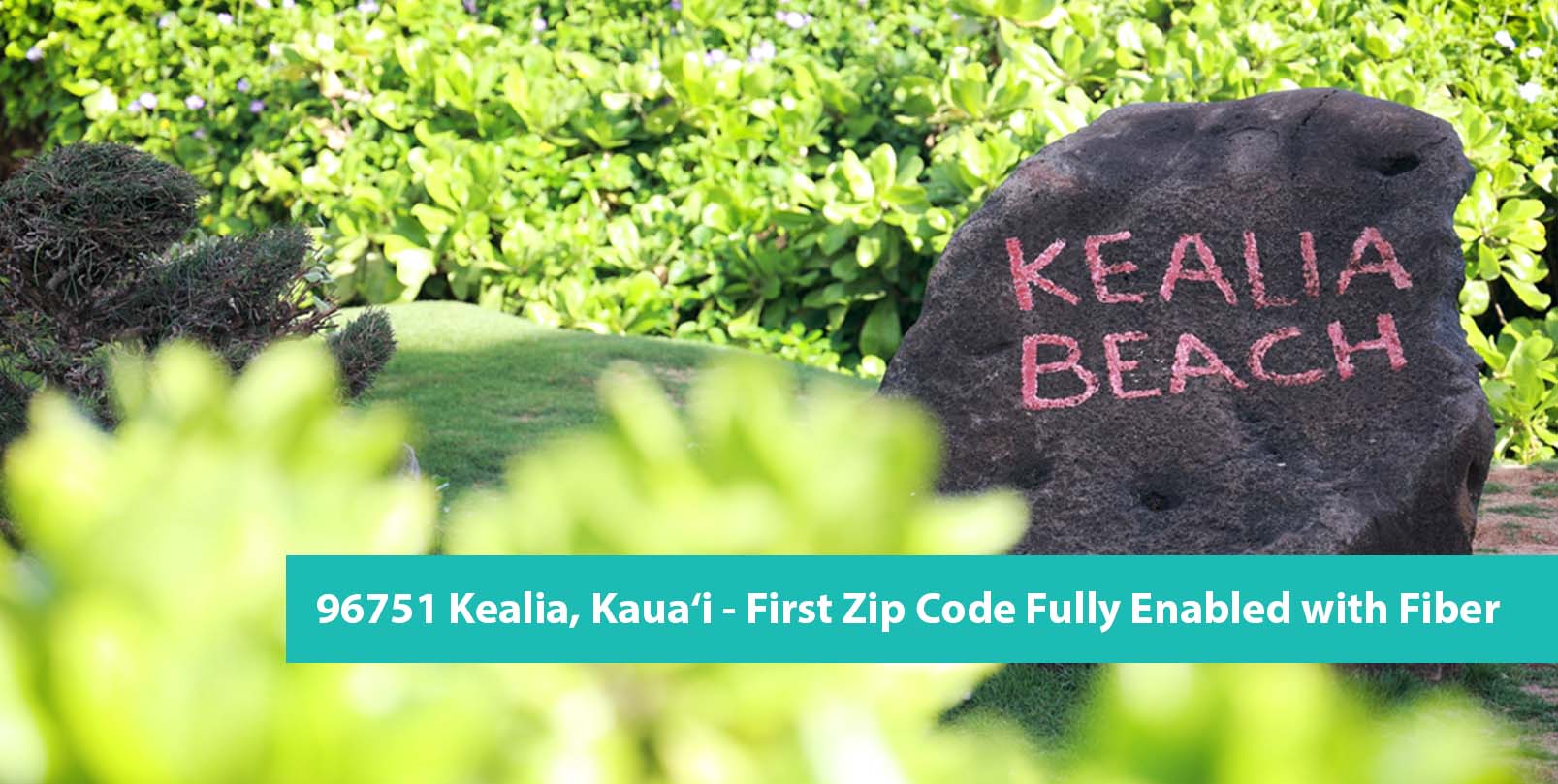 Tags: Community, Fiber, Fiber Internet
96751, Kealia on the east side of Kaua'i, is the first zip code that Hawaiian Telcom has *fully enabled with fiber infrastructure since our fiber expansion efforts began.

Kealia, a small community of less than 100 homes, is part of our Kapa'a wire center serving area. To provide fiber services to the north side of Kapa'a and Anahola, our infrastructure passed through Kealia and this is why it became the first zip code to be fully enabled with fiber. Unlike in past years, our strategy is to now fully enable an entire zip code with fiber before moving to another area.
A former plantation town that had a sugar mill and a train depot, Kealia means "salt-encrusted," which refers to the traditional Hawaiian method of collecting and drying salt. Today Kealia is known for its beautiful beach that is one of the best surfing spots on Kaua'i.
Bridging the Digital Divide
The neighborhood in which you live can determine access to schools, jobs, housing, transportation, healthcare services, and other important necessities. Access to our 100% fiber internet service Fioptics helps to level the playing field by offering the benefits of broadband such as telehealth appointments, remote work and learning opportunities to underserved areas. Hawaiian Telcom is proud to be expanding access to high-speed internet service, one of the first steps in bridging the digital divide in our state.
Hawaiian Telcom is actively improving digital equity in our islands, one zip code at a time. Stayed tuned for more updates on our fiber expansion progress!

Fun fact: Zip (zone improvement plan) codes were introduced by the U.S. Post Office in 1963 to enable automated mail sorting and make mail delivery more efficient. In most cases, addresses in close proximity to each other are grouped in the same zip code but they are actually not defined by a geographic boundary. There are more than 90 zip codes in the state of Hawai'i.
*Fully enabled means that every home and business within this zip code that was reasonably accessible has been enabled with access to Hawaiian Telcom's fiber internet. There may be homes or businesses that were not reasonably accessible due to blocked structures or that may require additional construction or permits to reach.
Share this article: