7 VoIP Setup Tips for a More Productive Office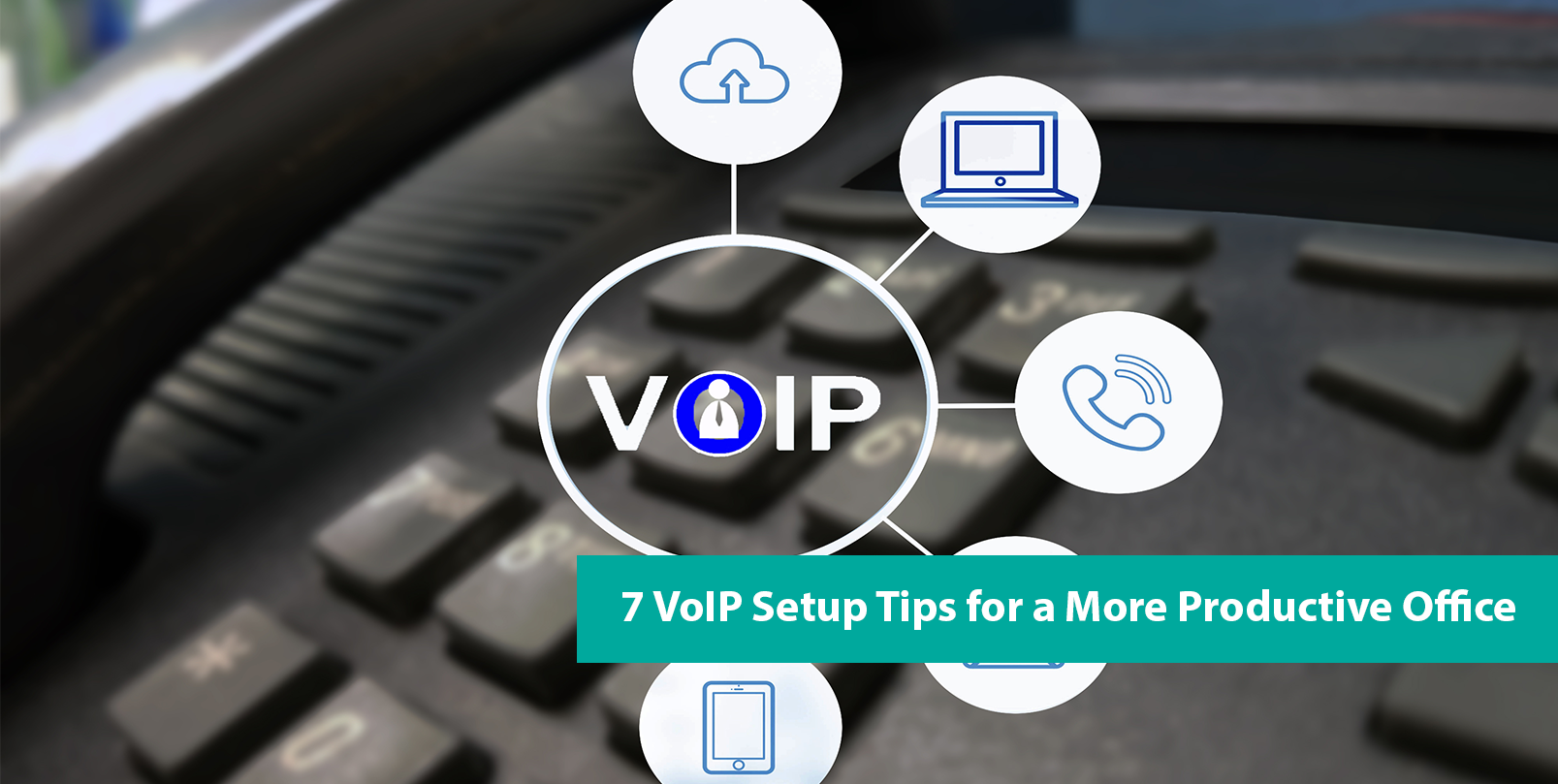 Tags: Technology
The global pandemic put a big emphasis on the need to run a business from anywhere. Enabling employees to work remotely requires cloud solutions. This includes collaborative platforms like Webex Collaboration Suite and Microsoft 365. Voice over Internet Protocol or VoIP phone systems have also become critical.
VoIP allows companies to stay in contact with customers and potential customers. Employees can work from anywhere and still answer the business phone line. Callers get a similar experience no matter where employees may be working, office or home.
When you have people working from home, those old landline systems are inefficient. This has led to a large movement by businesses to VoIP. Both for necessity and cost-savings.
According to Microsoft, 82% of organizations have reported saving money after implementing VoIP.
While VoIP is the way to go for the future, this doesn't mean it's foolproof. Companies that don't set up their system efficiently can experience issues. This includes things like dropped calls, low bandwidth, and features left unused.
If you've been struggling to make your cloud phone system more efficient, check out these tips below. They provide setup best practices for VoIP. Use these to positively impact your bottom line.
1. Check Network Capabilities
You can't just assume that you can enable a VoIP system, and all will be well. Your network may not be able to handle the extra bandwidth needs without adjustments.
Things you want to look at include jitter and packet loss. Additionally, review router settings to make sure it can handle peak traffic times. Experiencing dropped calls or choppy audio shows a need to address issues. These may include adjusting network hardware and/or increasing your internet speed.
2. Prioritize Your VoIP Software Using QoS Rules
Quality of Service (QoS) is a router settings area that allows you to say which traffic is most important. If QoS is not in place, it means resource issues. A large cloud backup could kick in and interrupt your calls because it's taking up bandwidth.
QoS sets up "traffic lanes" that give priority to certain functions. You'll want to have your VoIP software prioritized to get the bandwidth it needs. This avoids issues with less critical processes hogging up internet resources.
Using QoS keeps your calls smooth. It also improves the reliability of your cloud phone system. Providers like Hawaiian Telcom, can also manage these QoS options for their customers at no extra charge. It's also a good idea to use these rules for other important cloud activities.
3. Provide Quality Headsets for Your Team
A cheap headset can ruin the call experience for a potential customer. If someone calls in and can't hear anything or gets a choppy reception, they'll quickly get frustrated. They will figure that your company doesn't have its act together.
Your employees may not be able to afford high-quality headsets. They also may not know what type to buy. Head off potential problems by issuing quality headsets for your team to use. Ask your VoIP provider whether they offer headsets for purchase, and whether they have any exclusive discounts, like the ones offered at Hawaiian Telcom.
4. Set Up Departments & Ring Groups
One of the great features of VoIP phone systems is the ability to set up ring groups. You first set up your department groups (accounting, marketing, etc.). Then set the included employee extensions.
Creating a ring group allows you to have a call go to your customer support department. This is better than one person who may be busy. That way, the whole group gets the ring, and the first available person can pick up.
Ring groups improve the caller experience by reducing the wait time. It can also mitigate the need for the caller to leave a voicemail and get stuck waiting on a callback.
5. Create Your Company Directory
Auto assistants are extremely helpful and most of the VoIP systems have them. First, you set up your company directory and then record messages to prompt the caller.
For example, you can set up a message that prompts them to input the last name of the person they are trying to reach. If they aren't calling a specific person, they can be routed to a department.
While setting up a company directory takes a little effort upfront, it will save much more. You no longer will need to have someone specifically routing every call. Callers can also get to the person or department they need faster. This improves the customer experience and boosts office productivity.
6. Have Employees Set Up Their Voicemail & VM to Email
When you get out of a long meeting, going through a bunch of voicemails can take time. Instead of having to listen to each one to see which calls are a priority, you could simply read them.
The voicemail to email feature in VoIP phone systems will automatically transcribe voicemails. They are then emailed to the recipient. This improves efficiency. It also eliminates wasted time having to listen to entire messages to know who called.
Have employees set up this feature with their extension and email address.
7. Train Your Team on the Call Handling Process
Don't leave your employees to jump in and learn a VoIP system themselves. It's important to train them on the features and the company calling process. This ensures that your team can enjoy all those time-saving features. If you're a Hawaiian Telcom customer, you can find your training materials here.
Get Help Enhancing Your Business Phone System
Need help improving your business phone system? Looking for a better customer experience? Give us a call at 808-643-0926 and schedule a consultation. We can help!
Share this article: