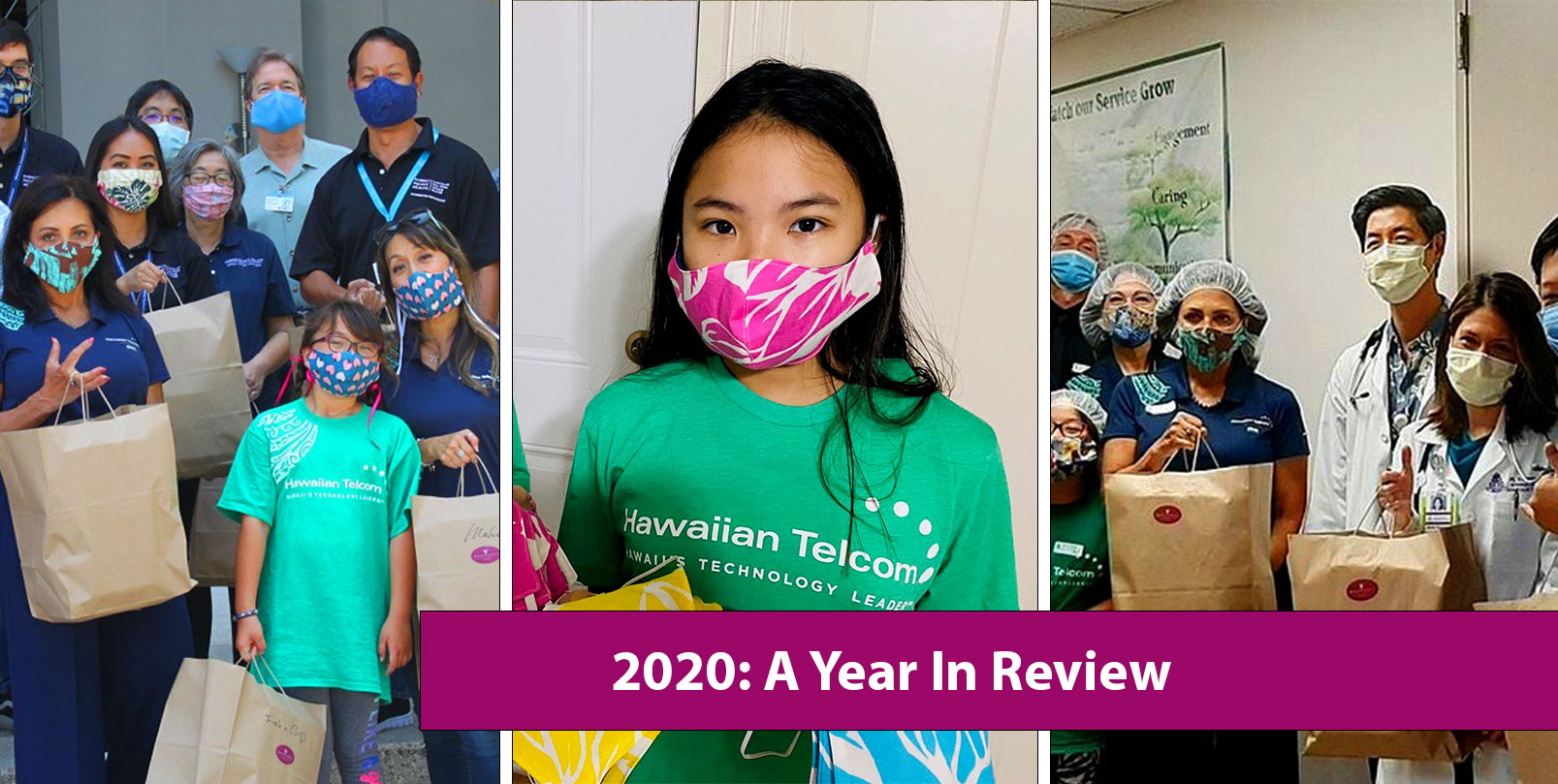 Tags: Community
Hawaiian Telcom has always been committed to serving its customers and the local communities, but 2020 has brought our commitment to a whole new level. Since the beginning of the COVID19 pandemic, we have witnessed the challenges faced by our customers, our communities, and our own employees. Looking back, we have to say we are very proud of our team, who shined during these unprecedented times. Here are some of our efforts to make the year of 2020 a little bit less challenging:
---
Helping the State's Unemployment Office

Once the pandemic hit, our team quickly installed an additional 150 call-center lines at the Hawai'i State Convention Center, which was serving as the state's temporary unemployment call center office to help with the rush of calls for unemployment benefits.
---
'Ohana Help Desk

Hawai'i Department of Education partnered with Hawaiian Telcom to create the 'Ohana Help Desk. The first-of-its-kind statewide technical help desk was supporting students and their families from Hawai'i's 250 public schools with their remote learning efforts. One of the best parts about building the 'Ohana Help Desk was creating 20 new jobs at a time when so many local residents were seeking employment.
---

Business Spotlight
To show our appreciation for local businesses, we launched Hawaiian Telcom's Business Spotlight program. Designed to showcase our customers and non-profits on our social media channels and to our statewide family of Hawaiian Telcom employees, the program put a spotlight on products and services these great organizations offer the community.
---
Keiki Meals Donation
Hawaiian Telcom employees raised over $22,000 to help feed Hawaii's keiki with a donation to the Department of Education. The donation helped to ensure our state's most vulnerable children continue to have access to the two reliable meals they would normally receive at school.
---
Hawaiian Telcom University Virtual Events

We didn't let the lockdown slow down our efforts to educate and collaborate with local businesses. When the pandemic struck we have switched our Hawaiian Telcom University - the free series of educational events addressing relevant topics presented by industry leaders - to a virtual format. We are very grateful to our attendees and our partners who have helped us make this new format a success.
---
Mahalo Lunch Donations
Throughout the year, Hawaiian Telcom and CBTS delivered free meals to frontline healthcare workers to express our gratitude for their hard work and care.
---
On-Demand Video Library
As a way to keep our communities connected and informed during the COVID19 lockdown, we revamped our Ch.808 Local on Demand video library with daily uploads from the Hawaii Executive Collaborative, interactive children's activities, fitness videos, local variety shows and more. Hawaiian Telcom also offered local non-profit organizations and government agencies free air time on our TV service for their Public Service Announcements.
---
Fiber High Speed Internet Expansion
The pandemic has highlighted the importance of the reliable high speed internet for businesses and consumers alike. We continued to expand our next-generation fiber network in the 3rd quarter of 2020 adding 1,200 newly enabled homes to our footprint, and plan to extend that reach to another 3,000 homes in the 4th quarter.
---
We sincerely hope that 2021 will be a year of recovery and prosperity. In any case, Hawaiian Telcom is always here to help, support, and give back! Happy Holidays!
Share this article: