Event Recap: Transforming to a Digital Workspace. Are you in?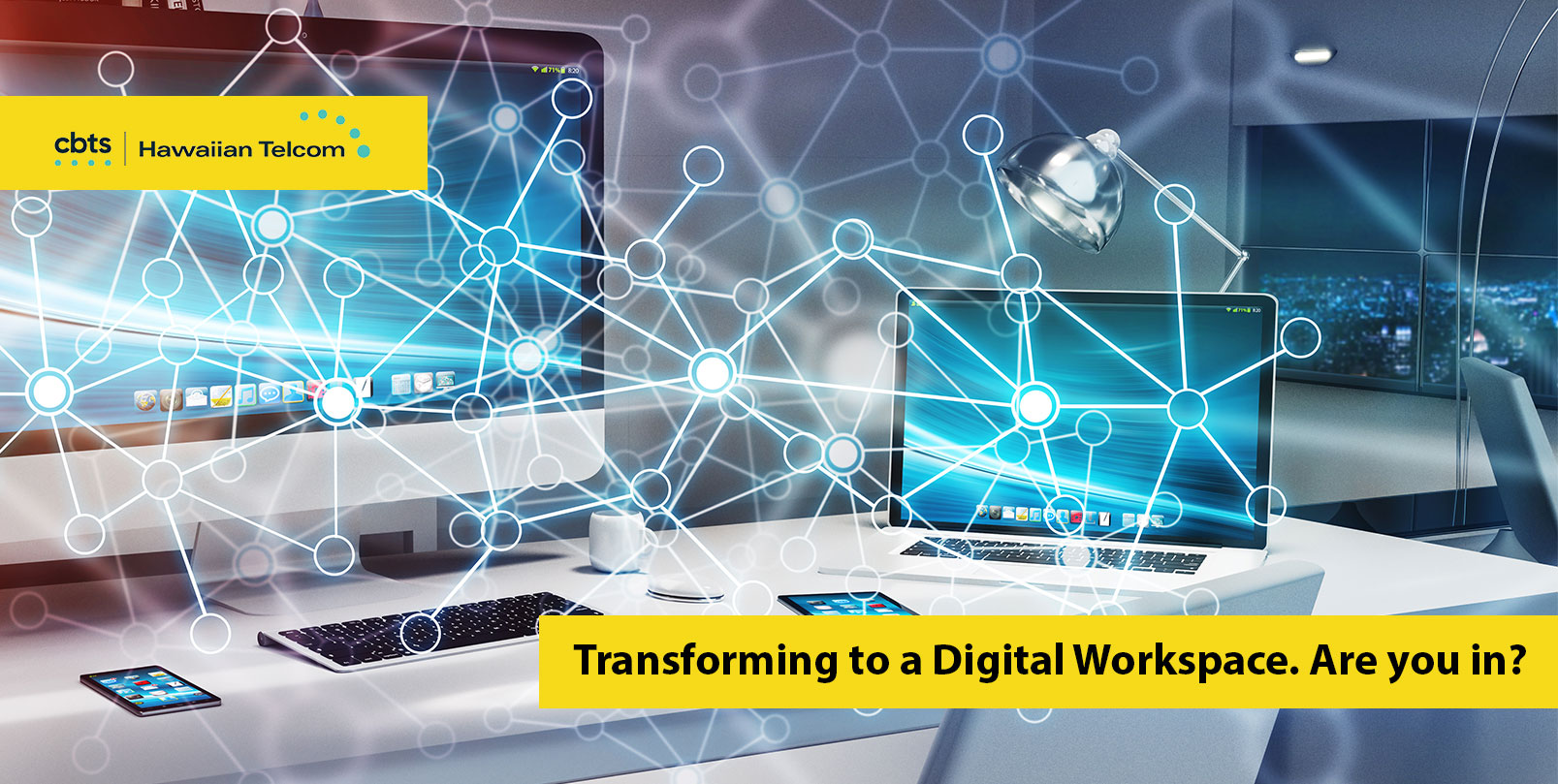 Tags: Events
---
The world of business is being transformed as digital workspaces are rapidly replacing physical desktops and laptops, allowing employees to work securely and productively from the office, home or on the road.

Digital workspaces are more than just working remotely. It's a business mobility trend that is reinventing the way we work across all industries.

At this Hawaiian Telcom University webinar, we discussed how companies are incorporating digital workspaces into their business and how it's making a positive impact to their work process.
---
Missed the event or want a recap? Watch the event video recording:
---
Topics of discussion:
Defining the digital and modern workspace
How customers, partners and employees do business in today's environment
How Workspace-as-a-Service encourages collaboration and productivity
Workspace security
Assessing your workspace needs
---
Speakers:
Kenneth Hensarling


Director Portfolio Management Cloud Services, CBTS | Hawaiian Telcom

John Bush

---
"One of the few great upsides of the pandemic is we've accelerated 25 years of drift toward working from home in one year," Nicholas Bloom, Stanford University.
Not surprisingly, 73% of attendees voted in a poll that they're most likely to deploy a hybrid remote & onsite working model. A year ago, the majority of them would not have given the same answer. When 62% of Americans (vs 25% in 2018) started working from home last year, it was thought to be temporary and everyone was rooting for things to get back to normal. Now, however, more and more people are realizing that working from home is what they actually prefer, pandemic or not.
In 2021 companies and their employees found out that hybrid working model has opened new opportunities for them. Majority of employees have stated they enjoyed working from home, and 41% of them felt more productive. Lack of commute meant saving costs and time, and it could even enable them to move to a more desired location that would otherwise be off limits.
Businesses, on the other hand, have found their pool of potential job candidates was no longer limited to the commuting zones. They started to have access to the potentially more qualified candidates now able and willing to work remotely. They also realized remote work cuts their expenses and reduces turnover rate.
With the right tools and some determination, many businesses were able to thrive during the pandemic. One of the Case Studies presented during the event focused on a sign making company that reimagined its business model on the spot in the beginning of the pandemic. Instead of facing the loss of profit they started, with great success, to produce face and counter shields. All this progress had happened in the work from home environment.
Remote Work is truly one of COVID-19 biggest legacies. The truth is, there is no going back to the classic working model. According to a study (and our poll), overwhelming majority of businesses will retain some version of remote/hybrid work.
"The success of remote working during the pandemic, means that we won't return to the way we were. We still want to be together physically. Employees can't run into each other in the corridor, for example, which hampers creativity. But the benefit of the flexibility, is part of us now and we've found that there are some things that actually work really well virtually."​ Tim Cook, CEO, Apple
When facing this New Digital Reality it is important to consider the best technology available, such as digital workspace solutions.
What are the steps for success when transforming into a digital workspace?
Take some time to THINK of what the company objectives and goals are. Some organizations don't want to be "Cloud" native – it doesn't work for everyone. However, with the right architecture the cloud workspace can be secure as the best corporate infrastructure. Your desktop technology spend can both grow and shrink with the needs of your business.
Make some thoughtful considerations. Your company should be able to have control of business needs, collaborate from anywhere, have workspace mobility and have the same working environment no matter where they are.
It is also crucial to find a service provider that would let you make the most of the hybrid workspace. CBTS Hawaiian Telcom have been looking at what kinds of tools are needed to enable hybrid workspace:
Scalable modern infrastructure with security, regular patching and storage capacity.
Flexible and designed for the specific needs of the company.
Communication: mail and messaging, voice and video conferencing.
CBTS Hawaiian Telcom started working on a solution built around Microsoft and their Cloud Services and came up with Workspace as a Service. It starts with a cloud that includes a variety of services businesses need, all in the protective environment with enhanced cyber security. Optimization and additional management tools have been added for increased efficiency, as well as secure connectivity back to the various locations and secure connections to the remote workers. The multilayer security features of the service help meet the strictest compliance requirements.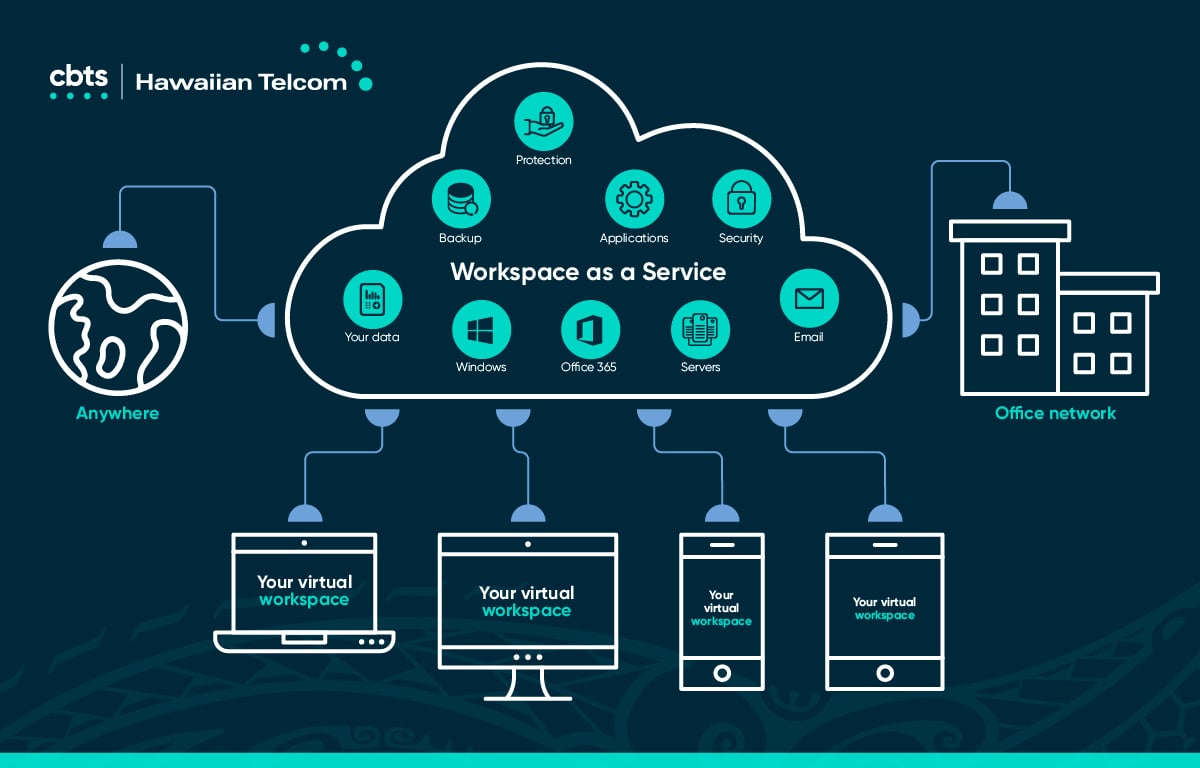 Workspace-as-Service is an important step into the future of remote working. However, every company is different, so it's important to assess the unique needs of every business.
To help with this evaluation, CBTS Hawaiian Telcom is offering a Workspace as a Service readiness assessment. During this assessment expert cloud solutions engineers will look at the current environment and identify how to best build out a modern workspace environment tailored to the particular needs of the company.
If you are interested in a Workspace as a Service Assessment, please contact our experts at 808-777-6027 or go to our website.
---
About Hawaiian Telcom University
Hawaiian Telcom University is an ongoing educational series with topics ranging from consumer technology trends to solutions for complex business issues. Hawaiian Telcom University's aim is to help customers as well as the broader local community better understand technology and how it can be leveraged to improve business process and everyday lives.
Share this article: