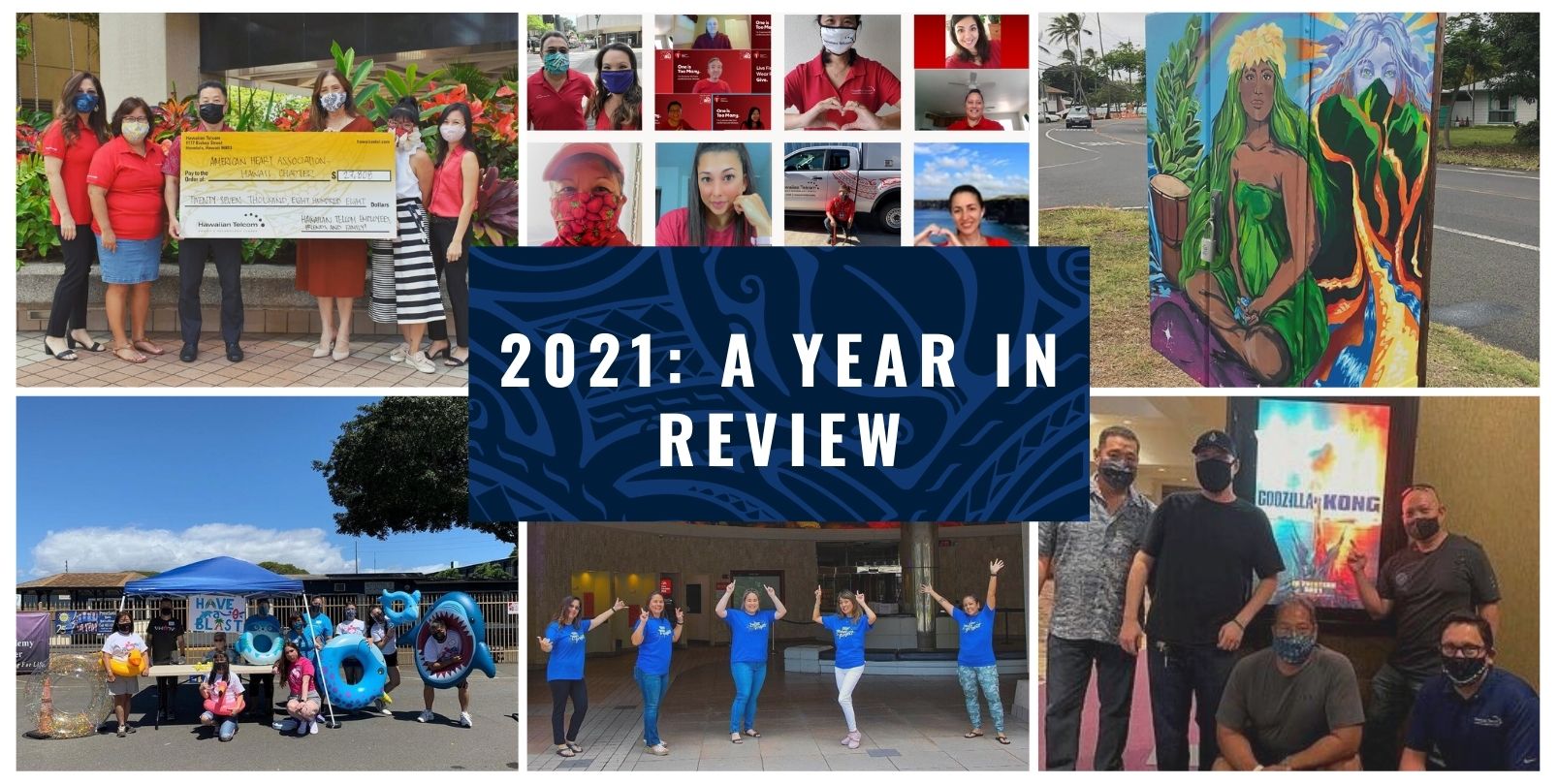 Last year turned out to be even more challenging than 2020 for many of us. We had hoped for a return to normalcy but COVID had other plans with the emergence of the highly contagious Delta and Omicron variants. Even as more Hawai'i residents became fully vaccinated and boosted, these variants contributed to record-breaking case counts, just when we thought we might be nearing the end of the pandemic.

However, even with the ups and downs, twists and turns, and highs and lows, Hawaiian Telcom's commitment to our customers, employees and local communities has remained constant. Our employees are the fabric of the company and their efforts helped make 2021 a little easier and safer for us all.
Giving back: Volunteers and Donations
With the COVID-19 Pandemic still affecting all our lives, Hawaiian Telcom employees rolled up their sleeves, donned their PPE, and gave back to their communities in any way they could.
In addition to financial and in-kind donations totaling $1.4 million dollars to various non-profit and charity organizations, our teams gathered school supplies, wrote letters to kūpuna, and volunteered 1,160 hours of service to various projects.

Dedicated to Hawaii: Working around the clock to keep us connected
The end of the year brought record-setting rains and the severe weather has continued into 2022, keeping many Hawaiian Telcom employees working long hours. Even though unpredictable weather and other challenges have kept our guard up to expect the unexpected, our employees have shown their dedication to serving their home. They understand the importance of their role to the community. From going into pounding rainstorms to ensure facilities are up and running to working late on Christmas Eve so customers can stay connected, in 2021 the teams at Hawaiian Telcom overcame any and every challenge together.


Fiber Drives the Future: Expanding our Next-Generation Fiber Network
We continue to invest in our communications infrastructure to improve digital equity throughout our state. Our vision is to expand our fiber broadband Internet service so every community has access to its many benefits. From keiki learning remotely at home to telehealth visits for kūpuna who are homebound, to e-commerce so local products can be sold anywhere and products from around the world are delivered right to your door, with fiber broadband the possibilities are endless. We're optimistic and excited about what the future holds!
Digital Transformation: Protecting what matters
With so much of our lives still happening remotely and online, in 2021 Hawaiian Telcom made a commitment to educate our customers and communities about the importance of cybersecurity. Our Hawaiian Telcom University event series helped businesses review their cyber security needs through this era of digital transformation, and our Connections blog kept consumers up to date on some simple and practical ways to keep data safe online.
In response to the ever-increasing risks of cybersecurity attacks that target both residents and businesses, Hawaiian Telcom created a new Security Operations Center encompassing a team of cybersecurity analysts who are dedicated to monitoring and responding to threats 24/7.
Looking to the future and in an effort to help meet the growing demand for cybersecurity professionals, Hawaiian Telcom partnered with Windward Community College to offer a six-week paid internship to Native Hawaiian students. The interns learned hands-on skills like information security tactics and explored aspects of network engineering, information security engineering, systems engineering and data center management, project management and human management.
Share this article: