$140,000 Gifted to Nonprofits Addressing Digital Equity in Hawaiʻi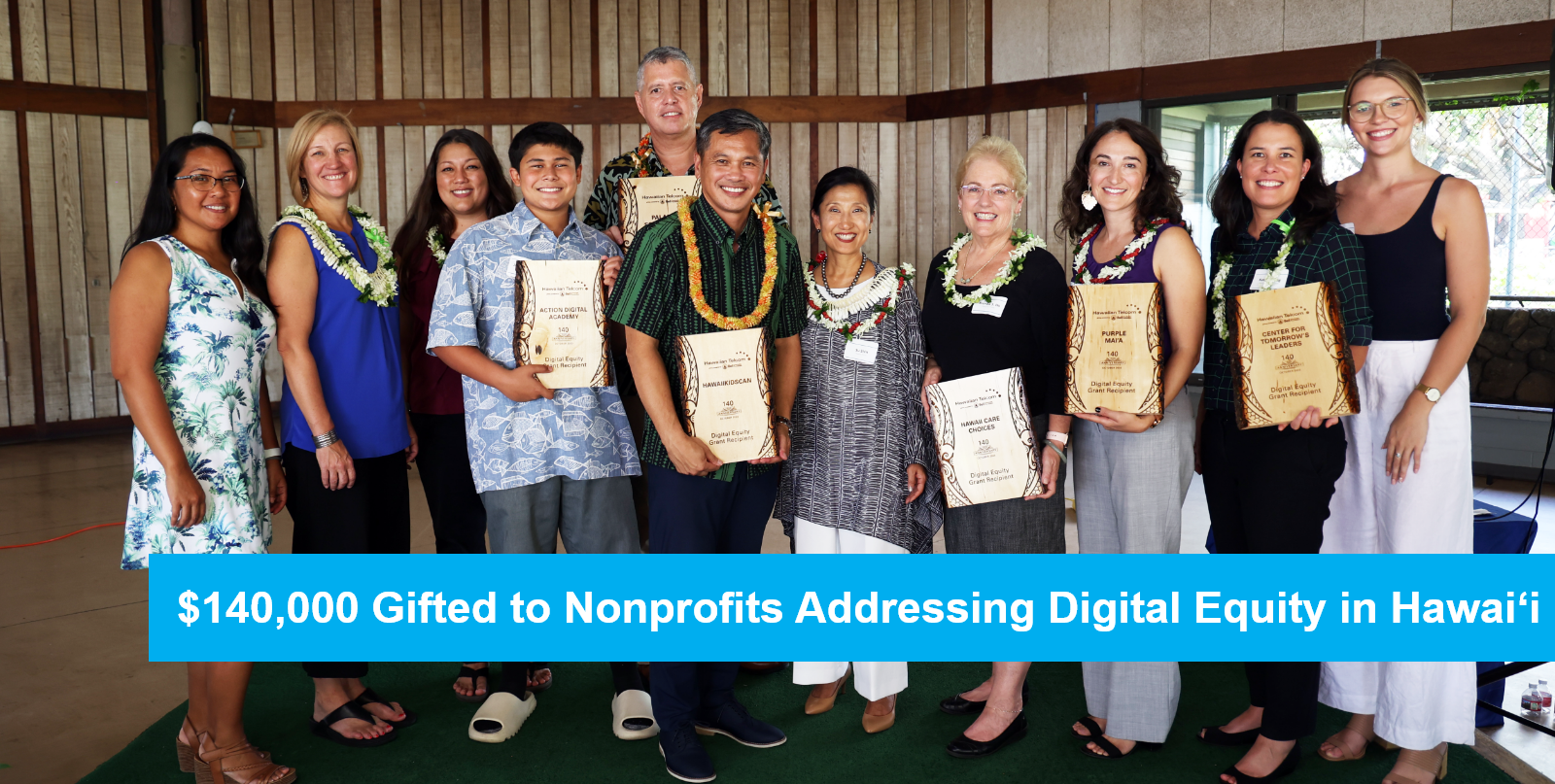 Hawaiian Telcom presented $140,000 in grants to six local organizations. Further underscoring the company's commitment to invest in new technologies, improve connections and expand access to broadband internet across the state, this special round of charitable gifts supports community nonprofits with programs focused on digital equity. These programs include helping Hawaiʻi's youth excel with new technology, tutoring our keiki and kūpuna for digital literacy, and improving technical skills in women transitioning back into the workforce.
"These grantees are connecting people with vital technology and data, and empowering Hawaiʻi residents with knowledge and access that will transform their lives," said Su Shin, Hawaiian Telcom President and Bell Charitable Foundation board member. "As a locally managed communications and technology company, it is profoundly rewarding for us to invest in community nonprofits delivering education and services that people need, just as we invest in expanding our future-proof fiber network to connect and empower Hawai'i."
Recipients of Hawaiian Telcom's Digital Equity grants are:
Acton Digital Academy

(O'ahu) was awarded $10,000 for its iKūpuna: Elevating Youth, Enriching Kūpuna program.

The funding for the Tech Savvy Teen after­school program will be used to establish a well-equipped tech lab and provide stipends for participating high school teens ages 13 to 19. The program helps teens develop job readiness skills as they provide personalized assistance to seniors who need help in improving their tech and digital proficiency skills.
Center for Tomorrow's Leaders

(Statewide) was awarded $25,000 for its Empowering Tomorrow's Generation of Tech-Savvy Minds program. Over a 12-month period, this program will partner with seven public high schools on Hawai'i Island, Kaua'i, Lāna'i and Maui to offer a three-year technology-rich, leadership development program that helps students prepare for college and the workforce.



Hawai'i Care Choices

(Hawai'i Island) was awarded $30,000 for its Digital Health Equity program. This program implements eHealth and Telehealth programs that enhance the quality and serviceability of palliative and hospice care to patients in East Hawai'i.



Hawai'iKidsCAN

(Statewide) was awarded $25,000 for its Hawai'i Tutoring+ program. This program helps bridge the digital divide by providing high-quality tutoring to rural communities across Hawai'i in hopes of improving parents' and kids' digital literacy and providing them with the educational resources they need to achieve success.



Palama Settlement

(O'ahu) was awarded $25,000 for its Digital Learning Bridge for Kalihi-Palama Low-Income Youth program. This program focuses on training 240 at-risk youth ages 8 to 17 annually on skills such as digital graphics, screen printing, videography, animation, game development, robotics, excel, coding and 3D modeling.



Purple Mai'a Foundation

(Statewide) was awarded $25,000 for its Digital Transitions program. This program provides incarcerated women at the Hawai'i Women's Community Correctional Center with basic computer and software knowledge to aid in their transition from prison back to their communities.
The digital equity grants are funded by the Bell Charitable Foundation, a philanthropic organization created by Hawaiian Telcom's parent company altafiber that supports nonprofit organizations where its companies provide service. In partnership with Hawaiian Telcom and altafiber, Bell Charitable Foundation has committed to giving $1 million over the next five years to create more digital equity in the communities its companies serve. The Bell Charitable Foundation will continue to make digital equity grants in Hawai'i, supporting organizations that focus on Economic & Social Mobility, Technology, Environmental Sustainability, and Health & Wellbeing initiatives. Please visit bellfdn.org/ for more information.
Share this article: